How to Buy A Toilet In The United Kingdom – A Beginner's Guide
Toilet technology has been evolving, and along with the development, regulation changes is inevitable to keep up with the times. Unless you are in the procurement business (for example, the building industry), buying a toilet is not a monthly or yearly affair for most people.
The last water closet you bought years ago may no longer be available. That renders your experience in choosing the right WC for your bath or cloakroom obsolete. Today, toilets are designed for better hygiene, higher flushing efficiency, and aesthetics to meet the growing affluent lot's demand.
Never mind if this is your first attempt at buying a water closet or not. This timeless guide should give you sufficient information you need to start. It will provide you with a fresh perspective in your search for the best toilet that meets your requirements and budget.
So where shall you start? These are the typical situations that prompt you to look for a new WC.
You need to replace an old or broken toilet.
For whatever reasons, you want a different toilet style for a change.
You are planning for a renovation or building a new bathroom.
Regardless, there is no lack of options to meet whatever you need or desire. The best way to begin is to learn the various types of toilet out there and then narrow down to the type and style that suits you. That will save you lots of frustration from choosing the wrong water closet, whether for replacement or a new bathroom.
The more you know, the more options and ideas you will have, especially when planning for a new bathroom.
Don't Make These 4 Beginners' Mistakes! –

STEP 1
Here are some reminders you shouldn't skip in your first attempt at buying a water closet.
1. Clearance Space For the WC
Before you even begin your search, you must know the space area where you intend to install the water closet. There are regulations for minimum space that specify the required clearance space around the WC for safety and convenience.
Please take this minimum space requirement seriously not only for safety but also for any breach of the regulation.
If you are renovating or building a new bathroom, be sure to allocate the minimum clearance space around the toilet. Your contractor is the best person to advise you on that. Or, if you need to make a quick estimation, here are 2 dimensions you can use.
A) Width or Side Clearance Space
Regardless of the pan width, measure 450mm from the WC centre to the adjacent wall or bathroom fixtures. This will be the minimum distance on either side of the toilet. Or 900mm wide overall. But each side must be at least 450mm; you can't go like 300mm on one side and 600mm on the other.
B) Front Clearance Space
From the front tip of the pan (regardless of toilet size) to the wall or fixture, use a minimum of 750mm as clearance space. If there is a door, the opening shall not swing into the clearance perimeter. Use an outward opening door, then.
So, to make up the minimum front-to-back space, simply add 750mm to the toilet's length. If you have not decided on which toilet to buy, you can use a 700 to 750mm ballpark as the toilet length. Of course, having a more significant frontal area, the better. Especially when you have a family member who uses a wheelchair.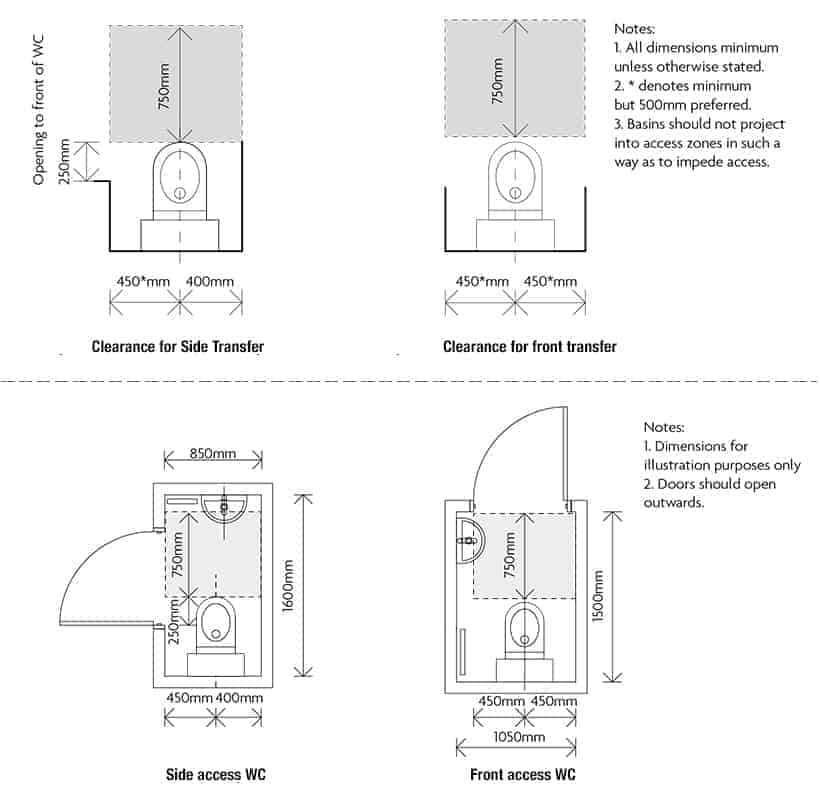 The above image is adapted for your easy understanding from the Planning Portal's Approved Document M: Volume 1 – Dwellings. It illustrates the allocation of space around a toilet. You may download a copy from the Planning Portal (link below).
Reference: Planning Portal – Approved Document M: Volume 1 – Dwellings
2. Take a Closer Look at The Pipes
If you are replacing an old unit directly, take measurements of the pipe connected to the pan. Then study the dimension of the replacement toilet and compare it with your measurements. If they match, great, otherwise look for adaptation possibility with pipe & fittings.
Replacing a toilet usually requires extra attention on how it is connected to the soil pipe. It's easy if you are replacing it with the same brand and model. But if the toilet is too old, it may have been discontinued. Then getting a new model or brand is not an option.
So what do you need to know before buying the replacement?
You will need to look at how the pan is connected to the soil pipe at the rear. Close-coupled toilets can be connected horizontally, directly onto the soil stack below the pan, or extended to the left or right. The most important measurement to note is the position and diameter of the pan outlet.

If the measurement falls short of a few millimetres, no problem. There are plenty of pipes and fittings you can use to make a proper connection. Most of it is made of PVC and extremely easy to modify to suit.
Replacing a wall-hung toilet can be as easy as pulling out the old pan and plug in a new one. But, if the system is too old (over 20 years), it is better to go for a brand new installation and maybe even a new wall.
3. Don't Call The Plumbers Too Soon
It is not uncommon for delivery delays, and your porcelain throne may not arrive in its original state. From the person who packs the WC at the warehouse to the delivery guy or girl, mishandling that leads to broken toilets happen all the time.
So, don't call the plumber until you have the toilet in your possession and it is in good condition. You can be charged for time and transport if the plumber arrived and you don't have the toilet ready. That's assuming you are too busy and have forgotten to cancel the appointment with the plumber.
4. This Actually Happened With Impulsive Buyers
Finally, this one is hilarious to some extent. Still, it happened – Don't buy a wall-hung pan to replace your floor-standing toilet because it looks cool and it only costs 10 or 20% more.
Yes, the wall-hung looks way cooler than a floor-mounted loo. But the cost difference is not what you think it is.
The reality? – Be ready to fork out 10 times or more for labour and material to have the new wall-hung loo installed. And be prepared to endure the mess and days without a toilet or less one toilet to use. Though you may request for return, refund or exchange, it is not without cost. You will end up paying more for transport and re-stocking charges.
If you are switching to a different WC type, always consider the existing pipe run and connection feasibility. Then you are unlikely to make mistakes with choosing the right toilet. Unless you have all the flexibilities to tailor the plumbing to the toilet, like a new build, it certainly helps to ask around before committing to a purchase.

With the reminders out of the way, let's continue with how to buy a toilet. From here onwards, it should be all fun! And here are the toilet types that are readily available in the UK.
What Types of Toilets Are There in The UK? –

STEP 2
A quick search online, you will come across at least 3 or 4 toilet types easily. The overwhelming options often make for a difficult decision from the most common close-coupled to the more sophisticated smart toilets.
It is easy if you have a preference for a particular toilet type. Then you can jump right into the comparison of features and price. Otherwise, you can do a little reverse engineering into your habits and lifestyle to find the perfect WC for your bathroom or cloakroom.
So let's assume you do not have any preferences (yet). Here are the toilet types and the respective variations you can find in the marketplace.
Types of Toilet in The UK
1. Close-coupled Toilets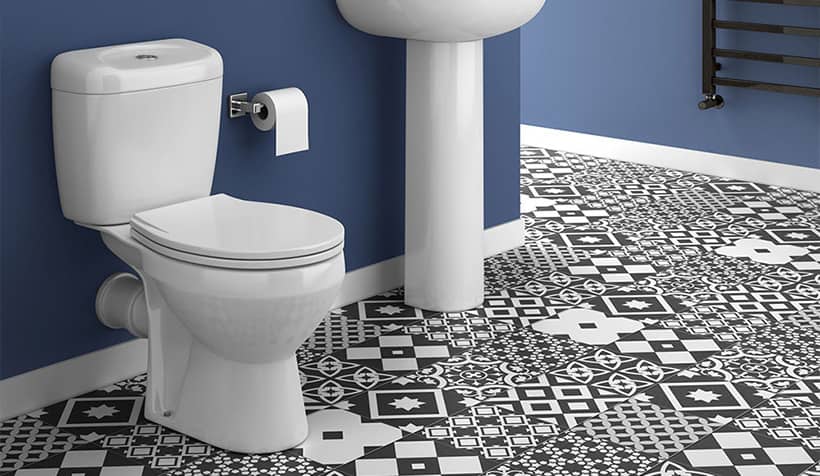 This is the most common WC type found in homes across the UK and the world. The entire construction consists of 2 main parts – The cistern (or tank) and the pan (or bowl). The cistern is fitted or coupled directly onto the pan without a connecting pipe like those high-level traditional toilets. Hence, the name "close-coupled".
Since this is the most common toilet type, parts and accessories can be obtained easily. Even replacing the entire toilet is inexpensive, and there is quite an extensive range in styles and features.
The only thing to note is how the soil pipe is connected to the pan if you are replacing an existing close-coupled toilet. The rest are plain shopping fun comparing features, styles, and prices.
Also, there are open-back and closed-back close-coupled toilets. If you do not want the soil pipe to be visible, choose the closed-back style, more popularly known as back-to-wall toilets. | Types of Toilets in The UK
2. Back To Wall Toilets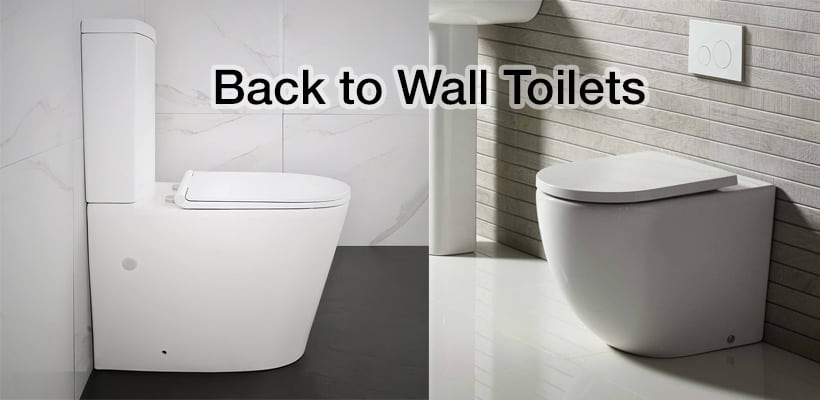 If you are meticulous about how your bathroom looks, then you should begin your search here. Back to wall toilets will hide the eyesore (pipings) out of any bathroom settings.
And if the cistern is another blot on the landscape, you can go for one where the tank is concealed within the wall. Not only it looks neat, but it will also save some space in a small bathroom. And you have one less item to clean.
Can you replace your existing standard close-coupled WC with a back to wall toilet?
Yes, you can. And make sure you check the soil pipe connection. It may require a slightly different set of soil pipe and fitting. Consult a plumber if you aren't sure what pipe and fitting are required.
But if you also want the cistern hidden, there are several options to explore. And that will depend on your bathroom setup and space availability. It can be as simple as getting a complete Back to Wall toilet unit or modify existing furniture to accommodate the concealed cistern.
The most challenging one will be having the cistern hidden in a concrete wall or stud wall (or drywall whatever). That will involve massive works on the wall to install the in-wall mounting frame. So, not going to elaborate on how it is done here. Discuss with your plumber or renovation contractor if you really want the cistern hidden in the wall.
Grohe and Geberit have the best in-wall system for wall-hung and back to wall toilets. | Types of Toilets in The UK
3. Wall Hung Toilets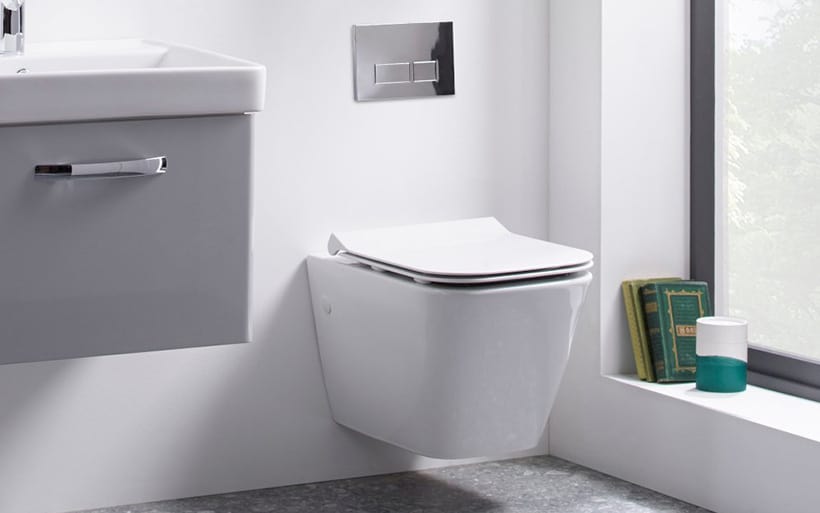 Wall-hung toilets are getting popular with city dwellers for a few reasons. Besides looking modern and minimalistic, they are great space savers and super easy to clean. But many still feel apprehensive about installing one, usually due to the lack of understanding of how they are installed and maintained.
The concern is real if you hire someone who has no knowledge of wall structure integrity to do the installation for you. That's because how much weight the system could withstand hugely depends on the wall that holds it. So if you ever wanted one, make sure to engage a contractor who is familiar with such installation. Otherwise, the repair is going to be costly and messy.
Brands like Geberit and Grohe, their mounting system has a construction withstand-weight of up to 400kg (or 880lbs). That is when the stud wall or brick wall is well constructed to support more than the maximum weight. But don't worry, with proper build material and expertise, it can be done easily.
Wall-mounted pans are as safe as the floor-standing type. Those who own one will swear by it and that they will never go back to the floor-mounted toilets. They will tell you how they love the clean line look and barrier-free access. Cleaning is no chores at all with the all-around accessible and smooth surfaces.
And what if you need to replace a faulty flush valve or shut the water valve? How troublesome will that be?
You can watch this video by Geberit and decide for yourself how "troublesome" it is to maintain a wall-hung toilet.
|
Types of Toilets in The UK
4. Corner Toilets
When you have a front-to-back space that is not too generous for a standard WC, try a corner toilet. Other than the cistern is shaped to fit into that angled space between 2 adjacent walls, everything else is similar to a regular loo.
And you may think there won't be that many styles for a corner toilet, you are right. Most of them are open-back type and a 90 degrees angled cistern. But in case you wonder if there is one that didn't expose the ugly soil pipe at the rear, have a look at this vidaXL. And this Cotto model has an off-90 degrees cistern and a skirted pan.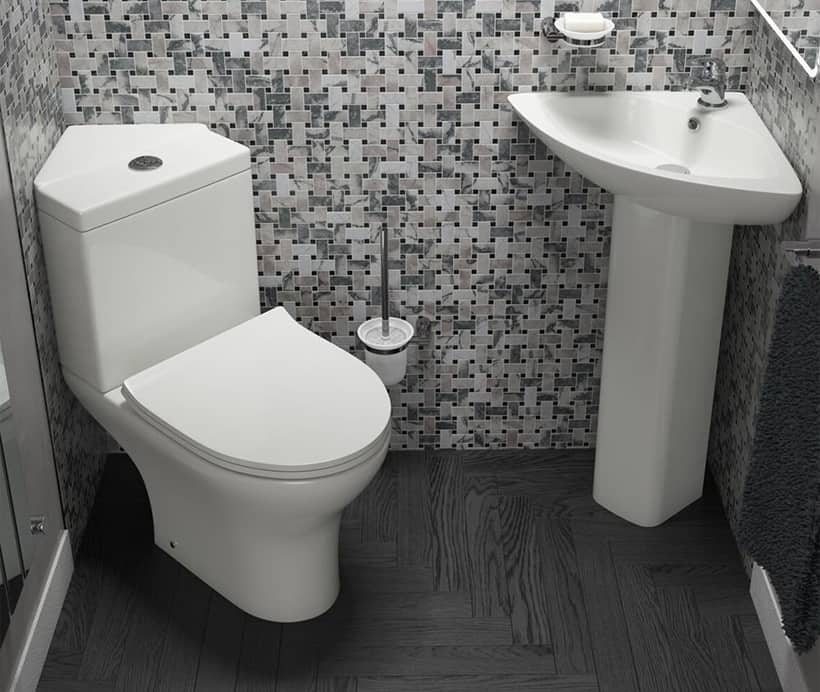 Though there isn't much variety to choose from, count your blessings that a corner loo is easy to find and solves a tight space problem in your bathroom. Most importantly, it can save you from the expensive renovation for more bathroom space. | Types of Toilets in The UK
5. Low & High-level Toilets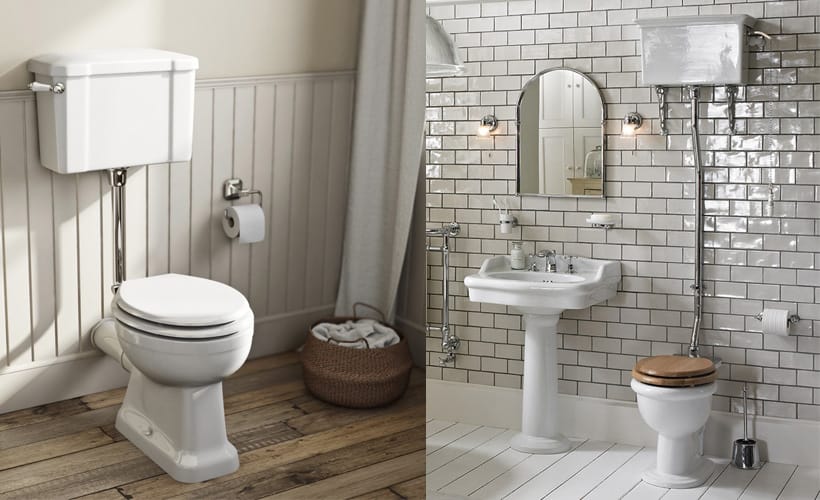 A low or high level toilet has its cistern and pan mounted separately on the wall and floor, connected by an exposed pipe. This timeless design dates as far back as the early 20th century. And it is still very much sought after by those who were overcome with acute nostalgia.
If you have not had one before, consider this:
The flushing is loud due to the high-speed water flowing down from a high place.
Cistern maintenance is quite laborious and impossible without using a ladder. (you can choose the low-level toilet if that's the case)
Third-party parts can be challenging to obtain if you find the original parts are breaking down your wallet.
Other than those drawbacks, your bathroom will stand out and be a great conversation piece. And there is no lack of options you can adopt to make the whole loo look unique or blend with the bathroom decor.
Merely changing the cistern bracket or flush handle can give it a whole new bespoke feel. But the signature piece in this setup is the cistern. Available in a variety of materials from plastic, ceramic, to even wood. Or you can have the cistern custom-made to give it the desired character. You are only limited by your imagination.
And there's always the low-level version if you don't have the ceiling height for a high cistern mount. | Types of Toilets in The UK
6. Comfort Height Toilets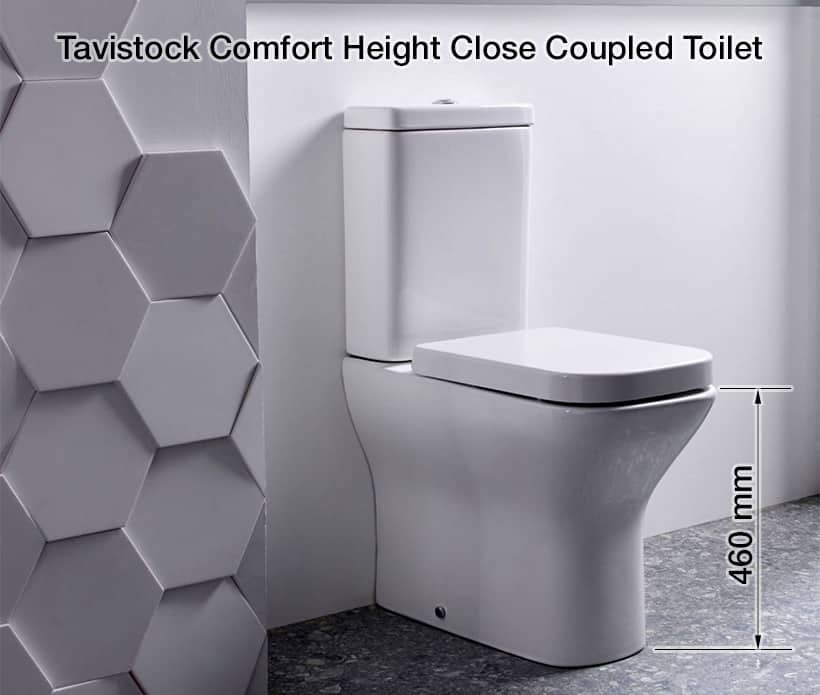 The term 'Comfort Height' is coined and trademarked by the American loo maker, Kohler. It refers to any toilet with a seat height of at least 17 inches (432mm) to a maximum of 19 inches (483mm) tall. The height range is set in line with the Americans with Disabilities Act (ADA). So, that pretty much is an American thing.
A higher pan offers the ease of sitting down and getting off the seat smoothly and safely.
Most of the comfort height toilets sold in the UK adopt the same yardstick. A WC is deemed 'comfort height' when its seat height is at least 17 inches (or 432mm), measured from the floor to the top of the seat (not including the cover). Therefore, the bowl height will have to be at least 16 inches high.
But it does not guarantee comfort for everyone. It will be better to consider your physical height in deciding if it is suitable for you. If a standard toilet bowl height (about 360-380mm) allows you to sit and get up without a struggle, there is no need for a comfort height model.
How do you determine the right seating height for a toilet?
When seated, your heel should rest firmly on the ground. That will provide stable support when standing up and reduce the risk of losing your balance. Otherwise, the pan is a little too high for you.
On the other hand, there should be control when sitting down and making contact with the seat. If there is a drop at the end, no matter how minimal it is, the bowl may be a little low for you. Another sign is when you are exerting more on your thigh muscle to get up.
Also known as 'Chair Height', such toilets are ideal for tall people, the elderlies and individuals with mobility issues. But whatever the case may be, the bottom line is choosing a toilet you are comfortable using and not what it's called. | Types of Toilets in The UK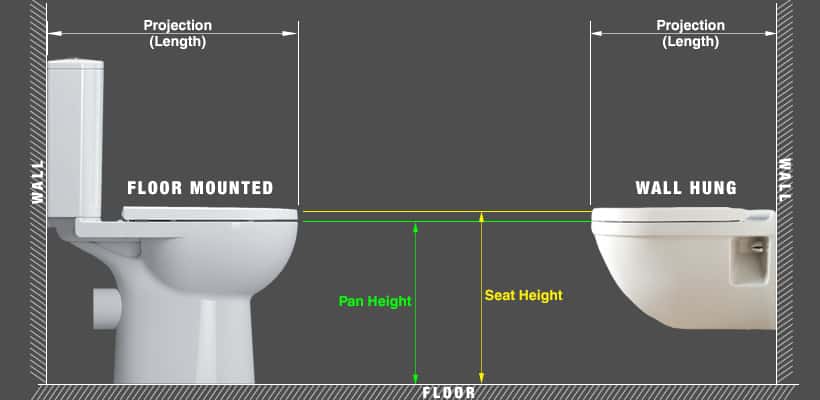 7. Short Projection Toilets
Safe and clutter-free should always be a priority in any bathroom design. Even more so when you don't have the luxury of space. A well-planned layout is vital, but it must be met with the right size fixture and furniture in the bathroom.
A short projection toilet is more suited for any small bathroom with a limited front clearance space.
The projection (length) is the measurement from the pan's front tip to the back of the tank or tank cover, whichever is nearest to the wall (see image above). A standard projection toilet has a length of about 650mm to 750mm. So, you can start from 649mm and below if a standard size loo will not help with your small bathroom.
What should be the length of a short projection toilet?
There is no standard to determine how short a short projection toilet should be. In most cases, you can find a close-coupled model that is about 600mm in overall length. But if that's not small enough, you are likely heading towards the wall-hung or the back to wall or concealed cistern toilets, where the overall projection length can be as short as 410mm.
But don't forget, the hidden cistern of a back to wall or wall hung toilet may require substantial wall cavity depth. That may push the inner wall about 150 to 200mm further into the available bathroom space. So, you may not be saving any space after all for an already built bathroom. But it is good to consider during the planning stage or renovation when changes can be readily deployed. | Types of Toilets in The UK
8. Smart Toilets
When you want more than just a device that clears away your faecal matter, a smart toilet usually comes to mind. Besides removing your waste, it also cleans and dries your bunghole. It then flushes itself of all your leftovers without you lifting a finger.
A popular Japanese smart loo can even sanitise itself after you.
What is most distinctive with smart toilets is the absence of a visible tank. Most, if not all, smart toilets have a small tank with an electric pump located within the pan structure. It doesn't use much of the gravity force for flushing. Instead, water is pumped directly from the supply line at high pressure to push waste out of the pan.
This pump-assisted flushing is an excellent alternative when you have weak water pressure from the utility.
It's All About Hygiene And Comfort
The advantages of a smart toilet usually revolve around hygiene and the environment. Because you don't use the paper as much, the entire sewer system becomes lighter of debris.
On the hygiene part, water offers a cleaner 'wipe' than toilet paper. And there is lesser contact with any parts of the loo with your hand since everything can be remote-controlled. Or you can set to auto operation, including opening and closing of the seat and cover.
But the main reason that makes smart toilets a good-to-have is the comfort it offers. Especially for those who hate the winter chill, having water of your selected warmth spraying onto your delicate rear is priceless.
And of course, in this day and age, you have the option of floor-standing or wall-mounted. However, the wall-hung version will have a hidden cistern, similar to a regular wall-hung toilet.
Except for the wall-hung smart toilet, you may not be able to flush normally during a power outage. You will need to use the paper to wipe regardless if it's a floor-standing or wall-hung when power fails. | Types of Toilets in The UK
Modern Toilet Features –

STEP 3
You are getting close to finalising the perfect water closet for your bathroom. Here is where you begin to narrow down the choice based on aesthetics, features and budget. And not forgetting Brands. Established brands, though they might be a little pricey, will always provide that peace of mind.
And these modern features are available no matter what toilet type you have had your eyes on. You can even have them in traditional or Victorian styles and the low-cost close-coupled toilets.
So what are the must-have features for you? Put them on your bucket list, and you will breeze through the heap of options that will otherwise overwhelm you.
The Styles
Let's face it, from a fly swap to a toilet, the one with the most appealing appearance (to you) has the highest chance of being added to the cart. As the saying goes, Beauty lies in the eyes of the bathroom owner.
But appearance plays no part in performance. So it should not be considered as a feature.
No matter how much you may disagree, if it blends perfectly with the bathroom decor, that makes you super stoke. It definitely is a feature. In fact, whether consciously or subconsciously, appearance is the first thing that most people look out for.
So not going to elaborate further. Everyone has his or her own preferences on a toilet exterior.
What's yours?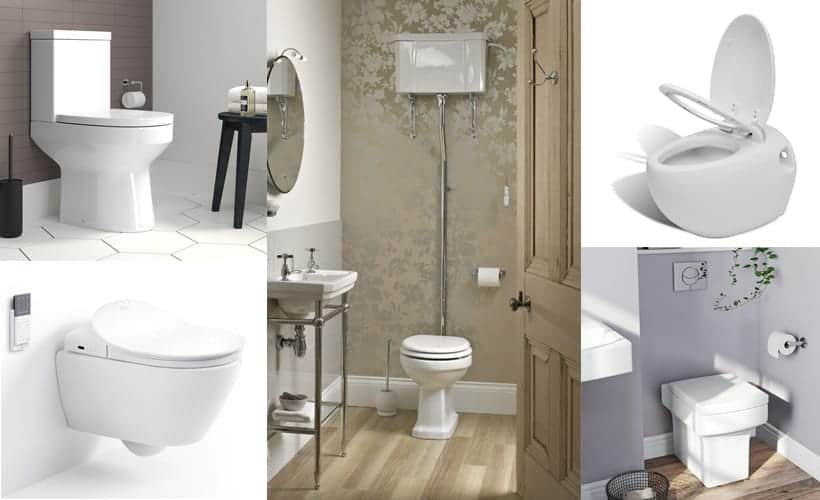 Bowl Shape
The classic round and oval pan nominate the majority of toilets in homes across the Kingdom. Suppose you are undecided on what to choose; you are never wrong with an oval bowl.
If the household is predominantly ladies, the round pan is a better choice. But please keep an oval pan for dad and his only son. They will appreciate your thoughtfulness (only men will understand). Also, when the bathroom is not generously big, a round bowl can free up some front spaces. Though not much but every centimetre counts to meet the minimum space requirement.
Apart from the classics, you have the D-shaped and Square or Rectangular bowls. These are modern or contemporary styles that have gained popularity among city dwellers. An upgrade to one of these pans will give your traditional bathroom a modern touch. They are readily available, and replacement seats are easy to get as well.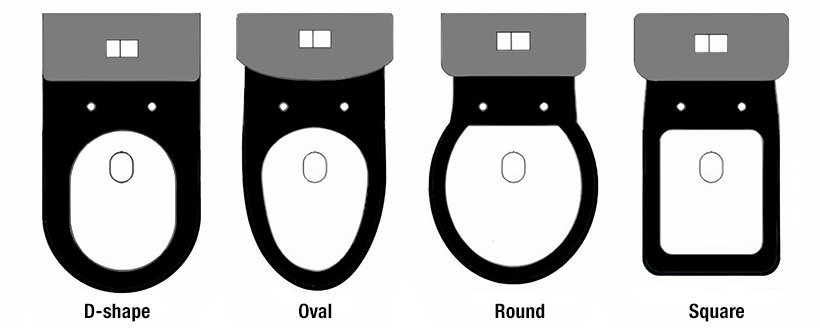 Rimless Bowl
A conventional toilet bowl uses a rim to distribute the flushing water around the pan to clean away dirt. The main advantage is that since water is flowing in a closed rim, out-of-pan splashes are avoided.
But, bacteria, grime, and even tiny bits of your waste can accumulate under the rim. Super unhygienic if you neglected it for way too long. Cleaning usually entails the tedious scrubbing and jet-spraying underneath the bowl rim. And it is almost impossible to keep yourself and the floor dry with all that jet-spraying.
So instead of water streaming down from the rim, the rimless or open rim pan offers a more direct and stronger water flow that flushes more efficiently. Water is jetted from the top opening and flows along the entire bowl's contour in a sweeping manner – a more thorough flush compare to the classic rimmed bowl design.
And cleaning the open rim is a breeze. A smooth wipe with a dry cloth underneath the rim is all it takes to keep a clean and hygienic pan. Gone are the days of dragging yourself to scrub, spray, and getting wet.
Isn't splashing will be a problem without the rim?
Most of the established brands have addressed the splashing issue with improved design. But even the conventional rimmed pan is not free of the splashing problem either. Usually, the fix is by dropping the cistern's water level to reduce the pressure and amount of water entering the bowl.
Nonetheless, a rimless toilet is preferred by many mainly because it is so much easier to upkeep.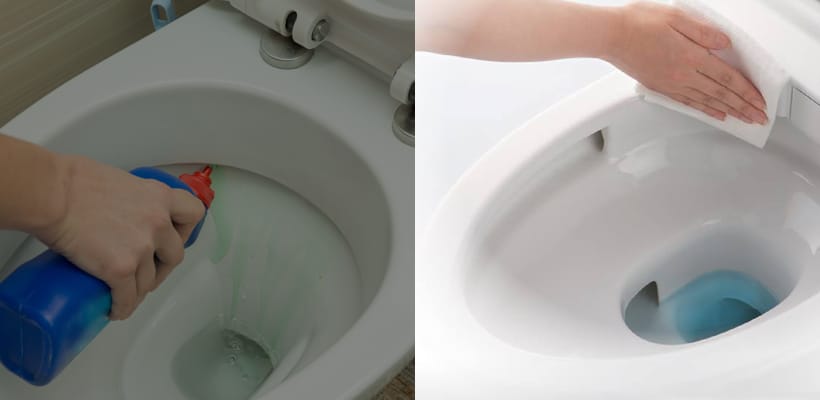 Glazes
A modern toilet without the glazes is like driving an Aston Martin Vantage on a gravel road. The smoothness of the bowl surface plays a critical role in delivering a clean flush. And with today's technology, surface glazing is made smoother and more durable than in yesteryears.
And a company like TOTO has been leading the industry with its nano glazes, CeFiONtect, which gives its loo the timeless brighter and cleaner look. A soft cloth and mild cleaner (or even water) are all you need to maintain the shine.
So, if a conventional glaze can't sustain your cleanliness expectation, go for the nano glazes. Other than TOTO, you can find similar high-quality glazed pan toilets from Burlington, Britton and Villeroy & Boch. Of course, these loos with the nano glazes cost more than the traditional ones.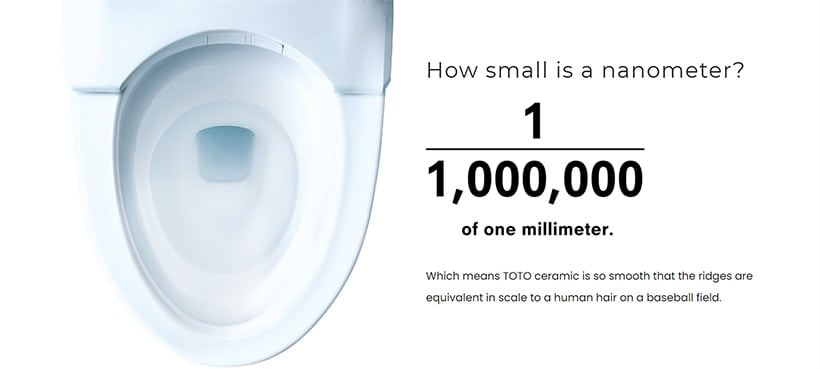 Water Saving
Do you feel the same guilt as wasted food when you flush clean drinking water down the toilet? That's inevitable. Though there is rainwater or well water if you live in the countryside, they often need to be softened or rid of the mineral content. Otherwise, unsightly rust stain and limescale will form, and it is even more painful to upkeep.
Unless you go for the composting loo, water is still the most efficient and convenient for waste clearance. But you can lessen the guilty feeling with a water-saving water closet.
So which are the water-saving toilets?
The most popular one is the dual flush toilets, whereby you have the choice of a low and full volume flush. The activation of the respective flushing is via 2 flush buttons on the cistern cover. Or on the wall-mounted flush plate in the case of a wall-hung or hidden cistern toilet.

Typically the full flush volume is 6 litres, and the low flush is 3 or 4 litres. The average flush volume with a typical dual flush toilet is about 4.85 litres.
If that's not good enough for you, there are even lower flush volume WC, such as the Twyford E100 close-coupled with 4 / 2.6 litres. Any lower, you will be looking at the vacuum- or pressure-assisted flushing systems where the water volume can be as low as 0.6 litres.
Here's a system that uses air and only 1.5 litres of water for flushing – propelair.com
And just so you know, those vacuum or pressurised air systems will need electric or battery power to operate. So, not suitable to install in a place where the loo shares the same space as the shower. Please consult an expert (electrical trained personnel) if you are considering doing that.
Quick Release and Soft Closing Seat
These days, any toilet sellers that try to offer a toilet without a soft-closing seat with quick-release hinges will get blasted with complaints almost immediately. Though unspoken, it is a standard now, and you shouldn't accept anything less.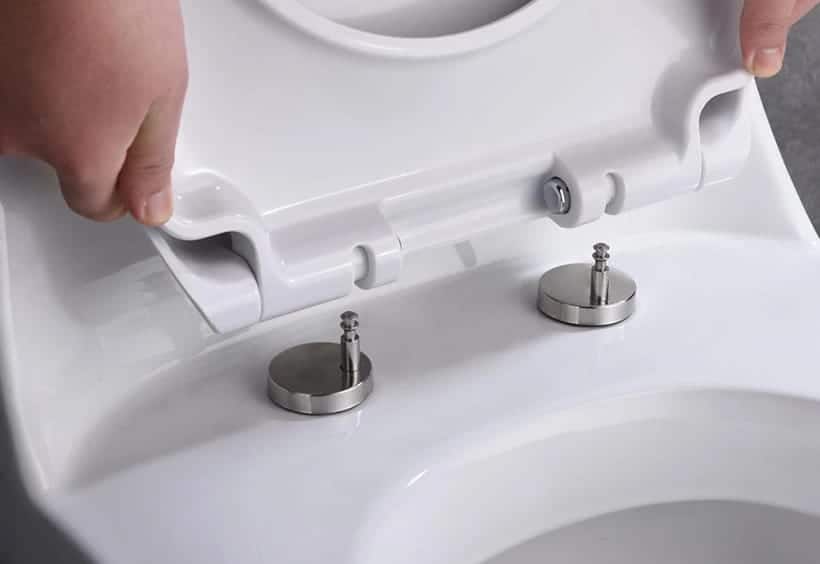 Modern toilets seat come in several designs and material types. The most popular ones are the wrap-over seats, where the seat is completely covered when the lid is down. It gives an elegant and almost clinical feel when the less desirables are neatly tucked away.
While the minimalists might like the wrap-over seat for its clean line look, they would love something that goes with a bare minimum. When space appears a little small for the toilet with a standard seat, switching out the seat for an ultra-thin one can change the outlook.
Ultra-Slim seat can be uncomfortable for those who are lacking in the booty department. The stylish ultra-thin seats are designed to enhance the appearance of any contemporary toilet styles. If you need an uplift to your bathroom decor but at a loss of what to improve, a WC with an ultra-slim toilet seat might just stop the twitching.
Whatever may be, don't let the toilet seat affect your decision. There are a lot more options from third-party merchants who specialise in toilet seats. Regardless of the toilet type you have chosen, you will be able to get a style you like that fits perfectly on your water closet.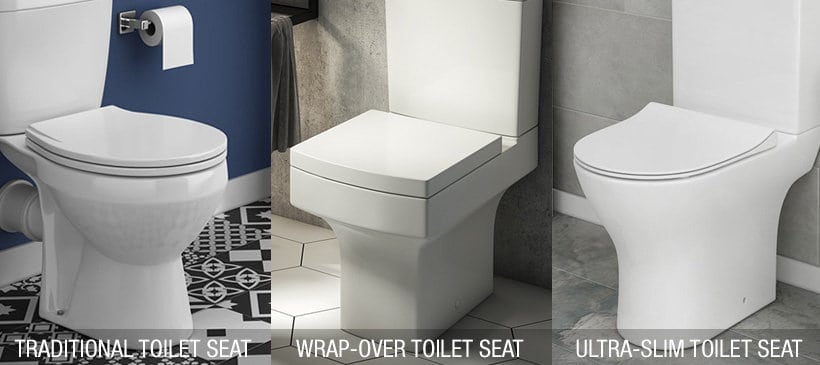 Flushing Mechanism
Not many vendors bother to provide information on the flushing mechanism that comes with the toilet. Probably the detail is too dry, and in general, buyers aren't interested in the technicality. As long as it can flush, who cares.
But that's the heart of all toilets out there. When the flushing mechanism stops working, you will have a large useless piece of ceramic structure taking up precious bathroom real estate. It will ruin your day as well.
So, what you should know about the flushing system?
You don't have to know the detailed workings. Who wants to spend time learning how a £25 toilet part works anyway. It's boring, and you won't have to deal with it very much until when it breaks. That could be a good number of years later.
Instead, here are 3 questions that will help with your purchase decision.
What's the warranty coverage like for the flushing system? The longer, the better, obviously.
Do you (the seller) keep stock of the flushing system parts like fill and flush valves and all rubber seals or gaskets? They better do, and you should think twice if they deliberated on the answer.
Are there compatible third-party parts I can use? What are they, and who sells them? You may not get a straight answer, but Google is always around to help.
For 3, any reputable toilet parts provider can provide the right parts at least 90% of the time.
Budget Versus Expectation –

STEP 4
£200 is about right as a budget if you are only looking for a close-coupled with an open-back. You will land yourself with a dual flush, rimmed bowl with conventional glazes WC. Nothing fancy. You may be able to get one for about £150 or less.
And don't expect a quick-release soft-closing seat to come along unless the retailer or manufacturer feels generous and throws out a special offer. But surprises are everywhere if you bothered to dig hard and deep enough.
£300 and above means you are less likely to compromise on features like a rimless pan and aesthetics. That's where all the modern features reside, and more styles are at your disposal.
So here's a table, a quick guide to give you an idea of what to expect with whatever budget you have in mind. (Installation cost not included)
Budget
Features
£150 – £200

Close-coupled
Dual-Flush
Rimmed Bowl
Conventional Pan Surface Glaze
Standard or Non-Quick-Release Soft-Closing Seat
Open-Back

£201 – £300

Close-coupled, High- & Low-level, WC Unit
Dual-Flush
Rimless Bowl
Conventional Pan Surface Glaze
Quick-Release Soft-Closing Seat
Back to wall design
Ergonomic Shape

£301 – £400

Close-coupled, High- & Low-level, WC Unit with Wash Basin
Dual-Flush
Rimless Bowl
Conventional Pan Surface Glaze or Nano Glaze
Quick-Release Soft-Closing Seat (wrap-over or ultra-slim)
Back to wall design
Ergonomic Shape

£401 – £600

Close-coupled, High- & Low-level, Branded WC Unit
Dual-Flush
Rimless Bowl
Conventional Pan Surface Glaze or Nano Glaze
Quick-Release Soft-Closing Seat (wrap-over or ultra-slim)
Back to wall design
Ergonomic Shape
Branded (Britton, Roca, Duravit, TOTO…etc)

£601 – £1000

Close-coupled, High-level, Branded WC Unit, Concealed Cistern Floor-Mounted
Dual-Flush
Rimless Bowl
Conventional Pan Surface Glaze or Nano Glaze
Quick-Release Soft-Closing Seat (wrap-over or ultra-slim)
Back to wall design
Ergonomic Shape
Branded (Burlington, Twyford, Geberit, Grohe…etc)

£1001 and above

Close-coupled with Electronic Bidet Seat, High-level, Wall-Mounted, Smart Toilet
Dual-Flush
Rimless Bowl
Conventional Pan Surface Glaze or Nano Glaze
Quick-Release Soft-Closing Seat (wrap-over or ultra-slim)
Back to wall design
Ergonomic Shape
Branded (Burlington, Twyford, Geberit, Grohe…etc)
How Much Does it Cost to Install a Toilet?
After setting aside a budget for the toilet type you want, you need to also add in the installation cost. That will give you the overall estimate to pursue your desired option, be it replacement or remodelling.
But it can be tricky to get an accurate estimate if it involves plumbing. Assuming no plumbing is needed, a typical replacement job takes about an hour and cost around £100. Any adjustment or upgrading will add to the cost.
If you go to Amazon Home Services, you will be greeted with an estimate of £250* to replace a close-coupled toilet. The service is a complete installation, which includes removing and hauling away your old toilet. Perfect if you live in a flat or apartment – save you the headache of not knowing how and where to dispose of your old adult potty.
Seems expensive? That's only an estimate. You will be advised by a pro on the exact cost before you agreed to the purchase. And, you are backed by Amazon's Happiness Guarantee. It certainly looks like a total hands and worries free service if that's what you want.
There are many more places you can get a feel of what the installation cost is like. Here's a couple.
Disclaimer: The websites are provided for your convenience. We are not associated with any of the service providers above. Please carry out your due diligence before engaging any services from there.
Make sure to ask about the disposal of your old toilet if that's important to you. And not forgetting the warranty against any workmanship defects.
Try to avoid hiring solo installers unless you know them personally and have seen their work. That's because there's no requirement for plumbers to be licenced in the UK. So any TD & H can be a plumber immediately if they want.
And because of this non-requirement, it is a cut-throat business. So beware of super low prices that usually leads to shoddy works.
Summary
It is always important to consider who the users are when choosing the style or type of toilet. Any user with special needs must be looked at first during the planning stage. Then the right toilet types and features will naturally surface for your consideration.
Also, the plumbing needs to be carefully considered. As best as you could, try to adhere to the standard or a typical installation. You can save some money on hired hands if the installation is straightforward and clear-cut that you can do your own maintenance. Even if you were to get the plumber in, it wouldn't cost much.
Nobody likes to clean toilets. But there is no such thing as a total maintenance-free loo. The least you can hope for is one that wouldn't take much effort to clean. If this is you, look out for as little surface area and as many flat surfaces, you can find in a toilet. A great example is a wall-hung loo or the hidden cistern model. And if it comes with a rimless bowl, that's a bonus. Or pay a little more for the nano glazes, then life is almost perfect.
---
Bet you didn't read from the title, without skipping a sentence, all the way to here. But if you did, you are simply awesome, and you should at least know what toilet type to choose by now with a budget. If you are still lost, please feel free to contact us or leave a comment below, and we will sort out the right loo for you.