Whatever Your Bathroom Size There is No Lack of Bathroom Storage Space with a Bathroom Vanity
The bathroom is one of the most important rooms in any home, serving as a sanctuary for relaxation and personal hygiene. However, with limited storage space, it can quickly become cluttered and overwhelming.
This is where a bathroom vanity is an essential piece of furniture, providing ample storage space and organisation options. It enhances the bathroom's aesthetics and offers practical benefits such as increased functionality, convenience, and a clutter-free hygienic environment.
In this article, let's explore the benefits of having ample storage space in the bathroom and how you can make the most of whatever bathroom real estate with a bathroom vanity.
Consider the Size and Configuration
No matter how big or tiny your bathroom is, a vanity can be a good fit for the available floor space. To ensure the vanity has enough space for your essential items, consider the number of drawers, cabinets, and open shelves.
In the same way, a small vanity in a large bathroom will look out of place, as would a giant vanity in a small bathroom. Take precise measurements of your bathroom to determine the largest vanity that will still fit and look good there.
The footprint of the vanity must be factored into the overall bathroom dimensions. Make sure that the vanity doesn't obstruct any doors or windows and that there is enough room for people to move around safely.
Choose a vanity proportionate to your bathroom size for a good rule of thumb. For example, a double sink vanity may be appropriate for a large main bathroom. In contrast, a single sink vanity will be more suitable for a smaller guest bathroom.
The configuration of the vanity is also important. Consider your storage needs and choose a vanity with the required drawers, cabinets, and open shelves. As this impacts the vanity size, you may want to prioritise the items stored in the bathroom first and weigh out your options.
Don't clutter the bathroom with non-essential items that make usage terribly uncomfortable. That's the bottom line.
Also, don't ignore the hygiene factor and ventilation, which is extremely important for a highly humid place like the bathroom.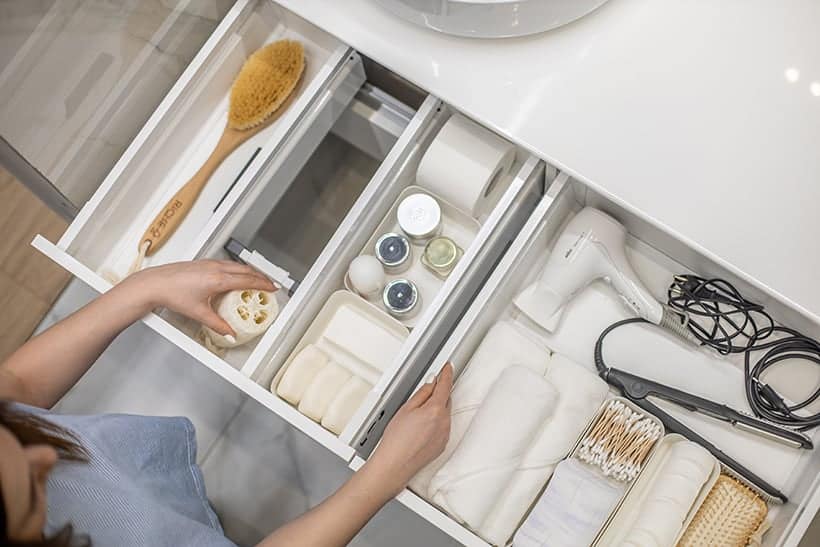 Drawers are an excellent storage option in bathroom vanities as they offer easy access to your items and keep them organised. You can use them to store makeup, toiletries, and other bathroom essentials.
If space allows, consider choosing a vanity with full-extension drawers that can open all the way, allowing you to easily access items at the back of the drawer.
It's also essential to consider the size and number of drawers you need based on your storage requirements. Additionally, you may want to think about the material and construction quality of the drawers to ensure that they can withstand the moisture and humidity in the bathroom.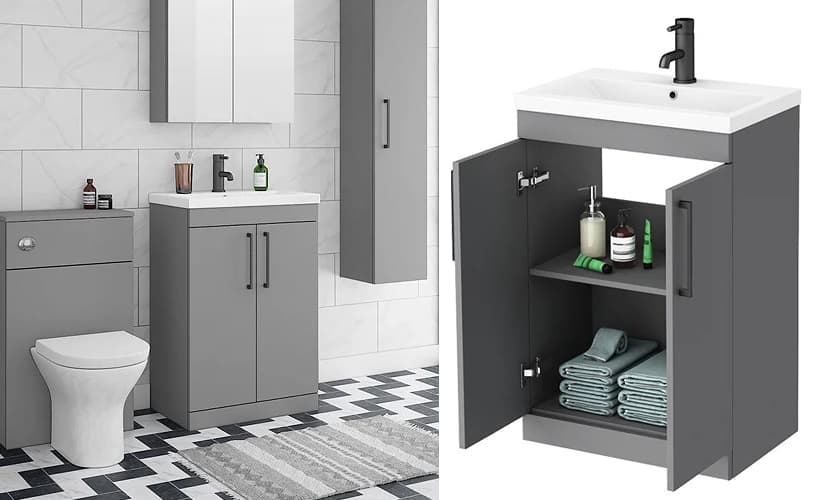 Cabinets can be a great addition to bathroom vanities as they provide ample storage space and help keep bathroom essentials organised and out of sight. When choosing a vanity with cabinets, it's important to consider the size and number of cabinets to ensure they meet your storage needs.
Adjustable shelves within the cabinet can also be a useful feature, allowing you to customise the storage space to accommodate items of different sizes.
If you have a lot of towels or bathroom cleaning supplies that you want to keep in the bathroom, cabinets can be particularly useful. By storing these items in cabinets, you can free up space in other bathroom areas and keep them easily accessible when needed.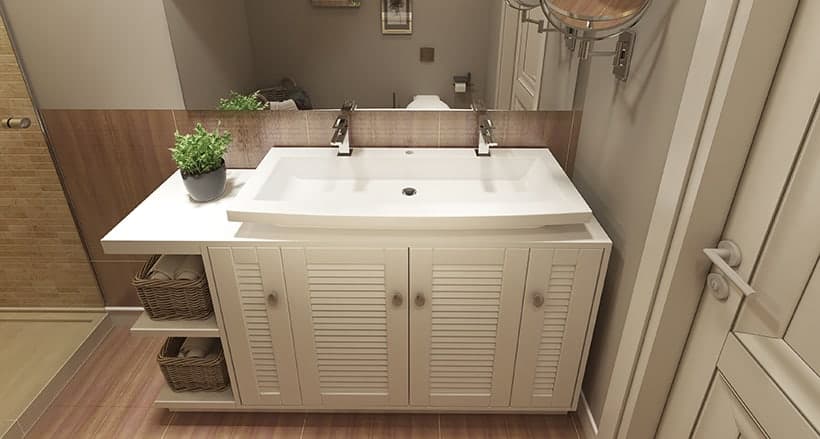 Some vanities offer open shelving for frequently used items like toilet rolls and towels. And they are also an excellent way to display decorative items, such as plants and candles. Consider choosing a vanity with open shelves deep enough to accommodate your items and that are easy to access.
If you like the idea of open shelvings, consider where the shelves should be. Most will have shelves next to the toilet so they can place a spare toilet roll within reach. Or beside the shower, where you can have the towel and personal care handy while you shower.
But highly recommend storing only bottled products like shampoos and lotions on open shelves as the content is capped from the humidity and other effects that may cause contamination. Even so, only leave the ones on the shelves you use daily and keep the spare bottles in the cabinet.
Also, extra towels should preferably not be placed on open shelves. Don't emulate those beautiful bathroom pictures of towels placed on open shelves. They are mockups for presentation purposes. In reality, the towels are exposed to the elements you would rather avoid – like aerosols from coughs, sneezes, toilet flushings and mould-causing water vapour.
Organisers can be incredibly helpful in maximising storage space in your bathroom vanity.
Here are some tips for using organisers effectively:
1. Use drawer dividers: Drawer dividers are a great way to keep items organised in your bathroom vanity. They can be used to separate items like makeup, brushes, and hair accessories, making it easier to find what you need quickly. Consider purchasing adjustable dividers that can be customised to fit the size of your drawers.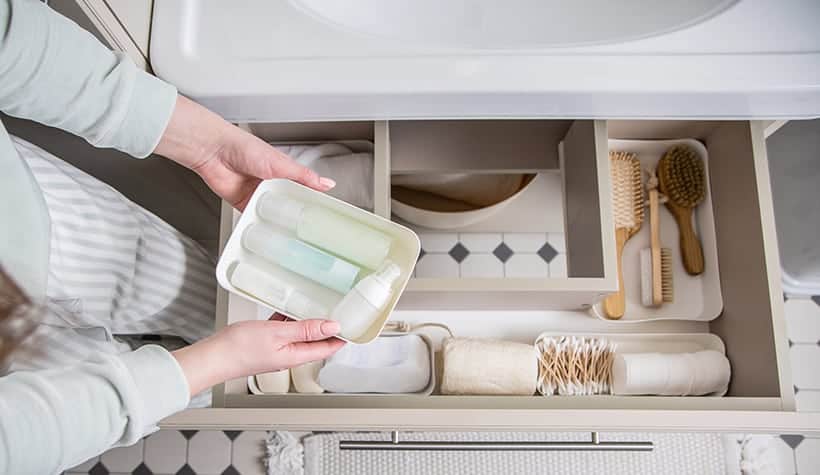 2. Use shelf risers: Shelf risers are another great tool for increasing storage space in your bathroom cabinets. They create extra room for storing items like towels, washcloths, and extra toiletries. Consider purchasing stackable shelf risers to maximise space.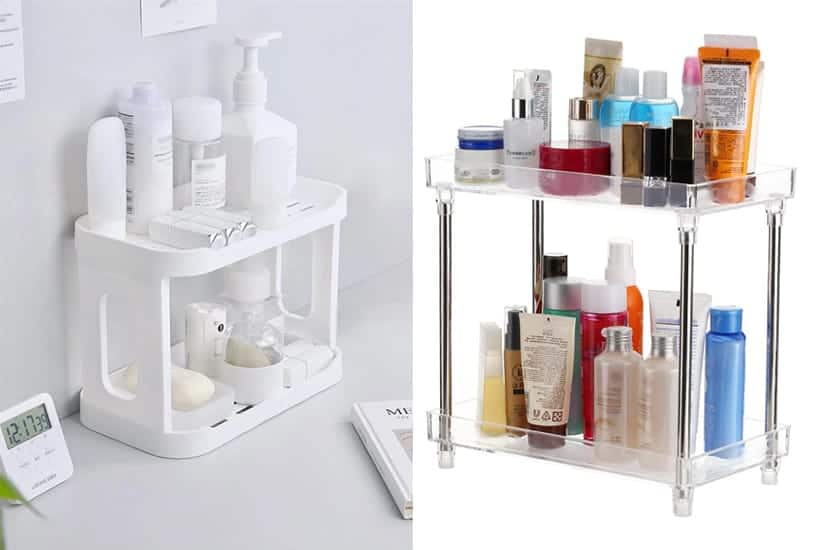 3. Use over-the-door organisers: Over-the-door organisers are great for storing cleaning supplies and toiletries. They can be hung on the back of the vanity door and are perfect for storing extra toilet paper, cleaning products, and hair styling tools. Look for organisers with multiple pockets to maximise storage space.
Choose the Right Material
The material of a bathroom vanity can have a significant impact on its storage capacity in several ways.
Thickness and weight: The thickness and weight of the material used in the vanity construction can determine the cabinet's sturdiness and durability. Thicker materials like solid wood or MDF (medium-density fiberboard) can support more weight and provide more storage options.
Size and shape: The size and shape of the vanity can depend on the material used in its construction. Materials like acrylic, tempered glass, and metal can be moulded and shaped into various designs to save space and provide more storage opportunities.
Resistance to moisture and humidity: Bathrooms are often humid and prone to moisture, which can cause damage to certain materials over time. Materials like hardwood or particleboard are susceptible to water damage and swelling. In contrast, materials like PVC, metal, or tempered glass are more resistant to moisture and humidity and thus can last longer and provide more storage options.
Don't Forget the Counter Space
Accessibility is the first thing that comes to mind for the counter space of the bathroom vanity. It provides the convenience of holding daily-use items like toothpaste and mouthwash without opening drawers and cabinets.
And with a little organisation, the counter space can be a great place to keep things tidy. You can group items together using trays, jars, or baskets and keep them within reach. For example, you can use a tray to hold your toothbrush, toothpaste, mouthwash or a jar to hold cotton buds and cotton balls.
The counter space also provides a great opportunity to showcase your personal style. Using decorative containers, such as apothecary jars or decorative storage containers, adds a touch of elegance to your bathroom while keeping your items organised.
If possible, you can maximise storage by using stackable containers or tiered trays to create extra storage freeing up more drawer or cabinet space.
Last but not least, there's always the mirror cabinet to offer that extra storage space to store away personal care items or everyday essentials. And remember to only leave everyday items and enclosed personal care products in the open if drawer or cabinet space is depleted.
What are your bathroom storage ideas? Feel free to share your storage solutions below in the comments.