How to Choose the Right Vanity Unit For the Bathroom
When buying bathroom vanity units, you should always consider the size of the room where you will install the vanity unit. It is important to measure the space before making any purchase. This way, you will not end up with a vanity unit that looks awkward (either too big or too small) in the space.
Get a good grasp of the space area first, then decide on the ideal dimension for the vanity unit. The next step will be your consideration of the functionalities, such as storage space, wash basin size, countertop space, etc. Then finally, consider the style or design to match the bathroom decor.
Don't make the mistake of choosing the style first without any regard for the space or the overall layout of the bathroom. You may have to compromise on the other fixture size or clearance space, which will not give you the desired aesthetics.
If this is your first attempt at buying a bathroom vanity unit, this guide will help you minimise, if not eliminate, the risk of choosing the wrong vanity unit. It is extremely frustrating to deal with returns and refunds for a mistake on your part and delay the renovation or construction.
Where's the Location and Space?
Don't fall into the space trap like most people who skip this important step when shopping for a vanity unit. They are usually attracted by the style and design that they either have forgotten or ignore the probable issue of space. And only to regret it later, which may force them to compromise in some areas, like a smaller toilet or shower/bath.
You may be renovating or constructing a new bathroom and must decide the best location to install the vanity unit. Think of floor space and organise your thoughts sequentially; you will have absolute control of getting the desired vanity unit. The bigger the floor space you can make out, the wider the range of styles will be at your disposal.
So the first thing is to measure the space where you want the vanity unit installed. Then visualise how the vanity will fit in the space. Followed by asking yourself these 3 questions, which will help determine the actual size of the vanity unit.
1. Is this (vanity) width (or length) too close to the toilet or door? Or any fixtures that are or going to be in the room.
2. How much clearance space do I have around the vanity unit? In particular, the space in front of the basin. It has to be at least 510mm (of course, the bigger, the better).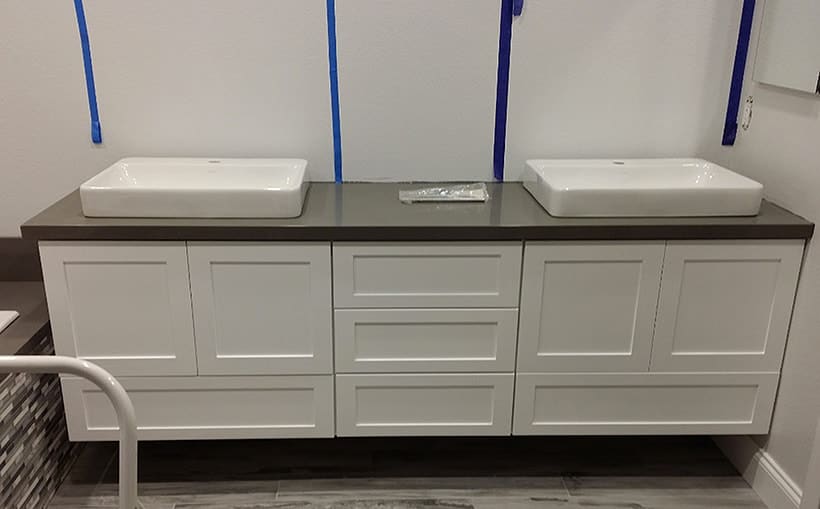 3. Will I be able to open the cabinet doors and drawers freely without obstruction, including the bathroom door? Don't be like this person on Reddit.
Space is King in any bathroom as it concerns accessibility and safety, and please do not compromise on either. A cramped and cluttered bathroom is never safe and extremely uncomfortable to use. So think ahead like an engineer and address all probabilities that may lead to compromises on safety and usability.
Plot Out The Bathroom Layout For a Clearer Picture
Information is better processed on-site rather than on paper. So it makes perfect sense to go to your planned bathroom, or if it is still on the drawing board, find a big enough empty space with a measuring tape, pencil, paper and chalk. And start plotting.
1. Measure and Mark Out the Spaces
Allocate and measure the spaces carefully and accurately for all the fixtures, like the toilet, shower (or bath) and vanity unit, with reference to the bathroom entrance and window. So that you can avoid any confusion later on. Ensure that the measurements are accurate enough to ensure that there is no need to change anything after installation.
2. Plot Out the Clearance Space
This is an important step as you may need to meet the building regulations if you are building a new bathroom or renovation involving structural or drainage changes. If you have no idea what it entails, check with the contractor or architect you intend to hire.
Clearance space ensures obstruction-free spaces around the vanity unit and other fittings. At least a 20cm distance is recommended between fixtures for easy access and maintenance purposes. And an open area big enough for safe movements.
Also, make sure the bathroom door can swing in freely and unobstructed. Otherwise, consider other door options, like sliding or swing-out doors. And if there's a family member with special needs, you will need bigger space for the manoeuvrability of a wheelchair.
3. Consider the Size of the Wash Basin and Countertop
You must also take into account the size of the wash basin. Measure the space available in the bathroom and determine how much countertop space you need. Whatever size you decide, ensure there is at least 510mm (recommended ≥800mm) clearance in front of the basin.
4. Take into Account the Overall Layout of the Bathroom
You can plot out several layouts if you need a consensus among the family members. The final layout that is being picked will determine the type and size of the vanity unit and the other fixtures.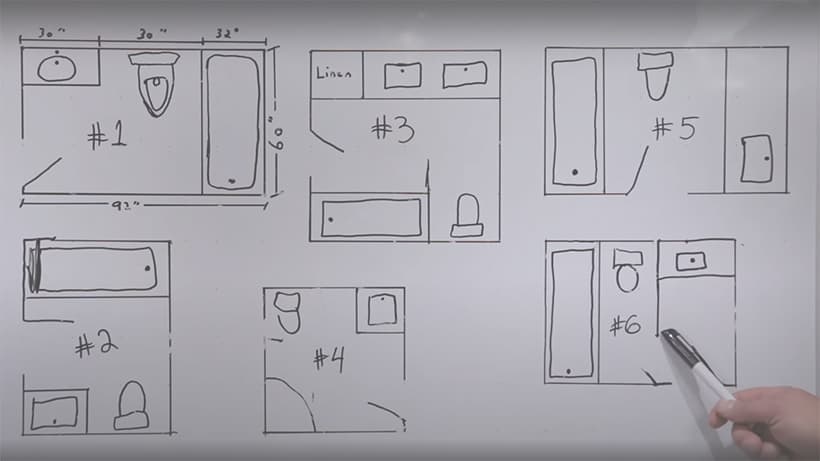 One More Step Before the SHOPPING FUN
Now that you have determined the size of the vanity unit, it is time to consider the storage, basin and countertop size design. And, of course, the type of material you prefer for the vanity unit.
Once you have all the measurements, you are now ready to choose the style and type. Whether you prefer traditional vanity units or modern designs, there's a wide range for your selection. And there are also the corner vanity units when the bathroom space is a bit of a constraint.
Basically, there are only 3 designs to choose from;
1. Free or floor-standing Type
2. Wall Mounted or Wall Hung Designs
3. Corner Units (which can be floor-standing or wall Hung)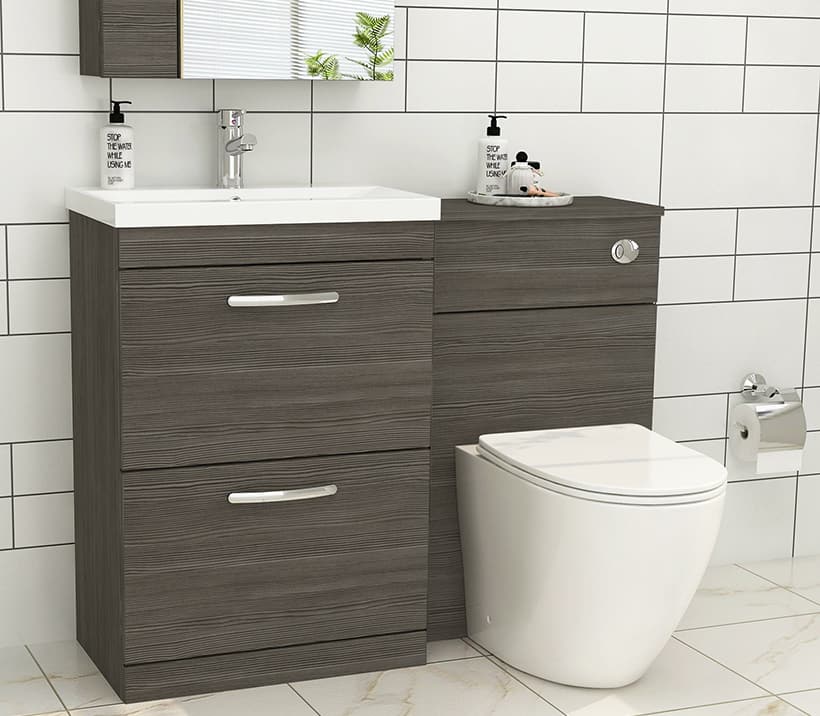 As the name suggests, a freestanding or floor-standing vanity unit is floor-mounted bathroom furniture that typically includes a sink, countertop, and storage space. Perfect for those who prefer gravity more than a unit that hangs in the air and ample wash space. And this is where you will find the widest range of vanity units to match any traditional or modern style family bathrooms.
When space is not an issue, you can consider one of those double sink vanity units to reduce waiting time during the morning rush hours. The main disadvantage of freestanding vanity units is the occupation of precious bathroom real estate – floor space.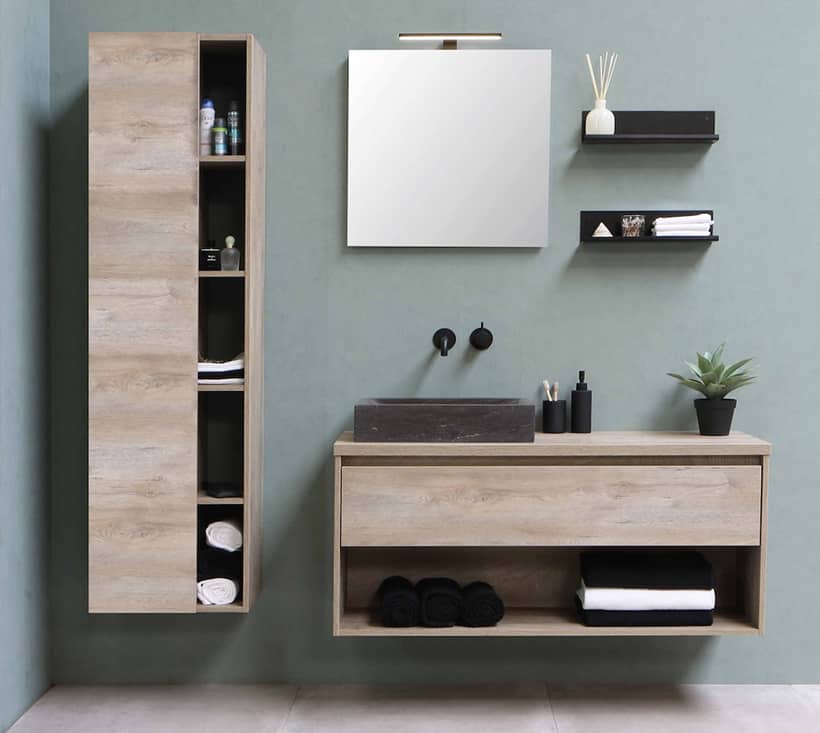 Wall-hung vanity units are popular for contemporary and modern bathroom designs due to their sleek and minimalist appearance. However, they also have disadvantages, such as limited storage, cost, and the need for a professional installation. Ultimately, the choice of whether or not to use a wall-hung vanity unit will depend on the specific requirements and needs of the bathroom and its users.
And just like the freestanding unit, there is an equally impressive range of double sink vanity units to consider if you have working adults and schooling kids in the house. Not to mention the extra storage space that comes with it to make a neater bathroom.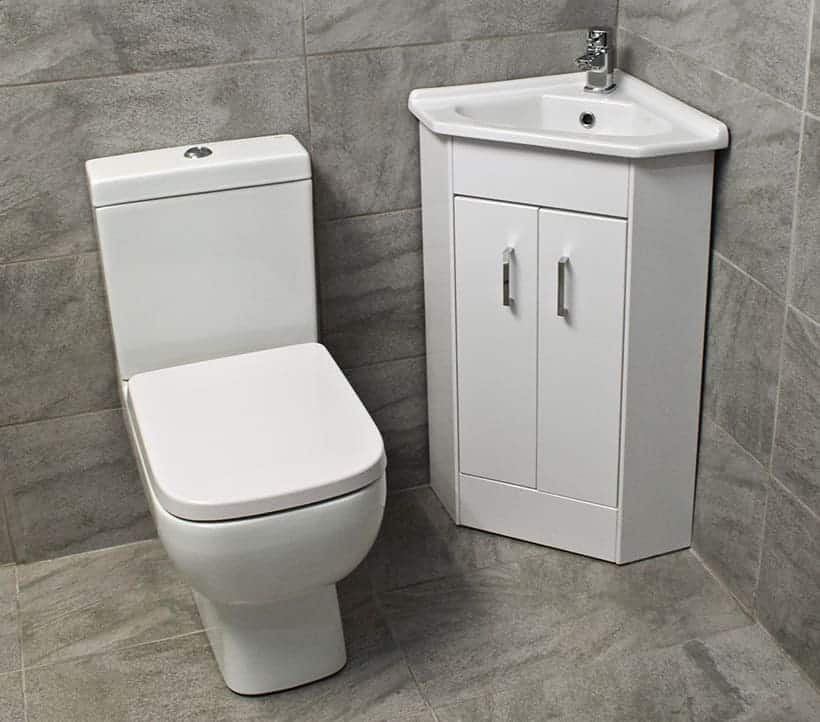 Corner vanity units or cloakroom units are ideal for smaller bathrooms or for maximising space in larger bathrooms. It typically features a triangular-shaped basin cabinet placed at the intersection of two walls. It can be a great option for those looking to maximise space and add a unique touch to their bathroom.
Available in both floor-standing and wall mounted, there is no lack of beautiful designs to choose from that matches your bathroom decor. But the size will not be as flexible as the regular types.
Material Types And Design
A typical vanity unit comprises 3 components – Basin, countertop and storage cabinet. And each is made with different materials for durability and aesthetics. Design-wise, though it is a personal preference, durability should take precedence because of the bathroom's high-humidity environment.
Basin Material
The wash basin is typically made of ceramic, glass, stainless steel, granite, marble, and solid surface composites. Each material has its unique properties and characteristics, including durability, maintenance, aesthetics, and cost. Ultimately, the choice of wash basin material will depend on personal preferences.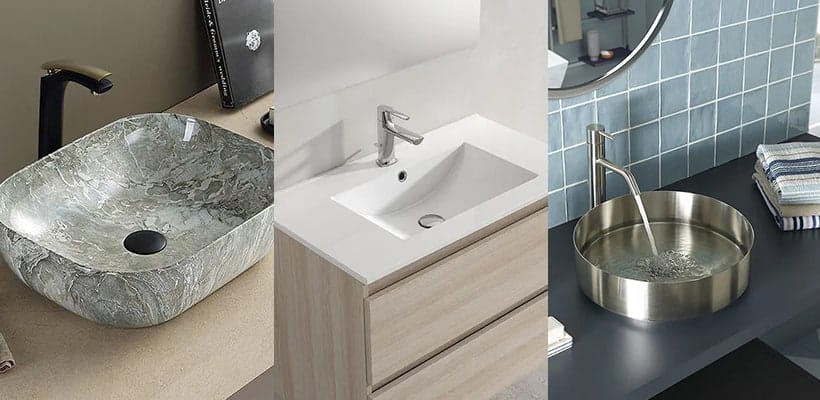 What to consider when choosing the right material for the wash basin?
You can begin by reflecting on how you or the family use the basin daily. This will help you decide what material is the best option. Durability is always the first consideration for many. But that also depends on how diligent you are to upkeep. All the basin materials mentioned can last a lifetime if they are used responsibly and well-maintained.
And speaking of maintenance, lazy busy people will want a basin that requires little to no maintenance. Out of the range of options, materials like ceramic, glass, stainless steel and composite are easy to clean. However, stainless steel is prone to water stain when left to dry by itself, but it won't chip or crack.
Whether you follow the latest bathroom design trends or not, you will be spoiled for design options. Square, rectangular, oval, boat, random shapes, whatever you can visualise, there is always one that will appeal to you.
Countertop Material
The countertops are crucial in determining the look and functionality of a bathroom. They are available in a variety of materials, each with its own unique properties and characteristics. Some of the most popular options for vanity unit countertops are granite, marble, quartz, Corian (solid surface) and low-cost laminate.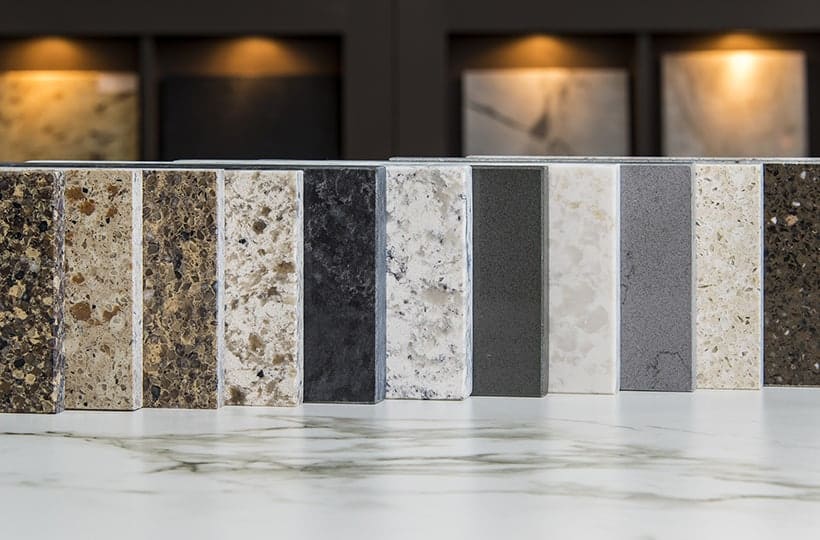 Natural stone is typically considered a luxury material due to its beautiful appearance, but it requires specific maintenance. Therefore, it is not a good option if you desire minimal upkeeping.
The best alternative to natural stone is Quartz. They are stronger, more resistant to damage, and less likely to stain than natural stone vanity tops. However, they have a lower heat tolerance than natural stone, which is not much of a concern in the bathroom. Most importantly, they are easy to clean and look almost like natural stone.
When deciding on a material for the countertop, it is crucial to consider the overall design and aesthetics you want to achieve and the durability, maintenance, and cost of each available option. Ultimately, the best option will be the one that meets your requirements and tastes, which is not necessarily the lowest cost.
Storage Cabinet Material
Bear in mind this is a piece of bathroom furniture that will be placed in a high-humidity environment and subject to splashing daily. Unlike the basin and countertop, the storage cabinet is made of wood 99.9% of the time. But no worries, it can be made as durable as the countertop with today's manufacturing and material technology.
Most off-the-shelf cabinets are made of engineered wood. The most common engineered woods used to construct the cabinet are plywood and MDF (Medium-Density Fibreboard).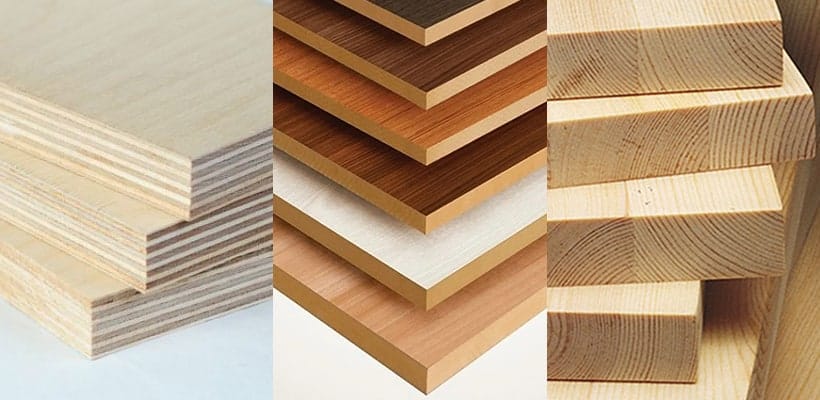 Engineered wood is durable and water-resistant for use in bathroom vanity. Some high-end cabinets are made with lacquered MDF which can be customised for a glossy or matt and even metallic finish. Likewise, the option is almost limitless for plywood if you prefer a natural closed-grain wood finish such as oak, teak, birch and more. And yes, plywood for vanity cabinets is water-resistant treated.
Solid wood is a preferred vanity cabinet material for many, as opposed to particleboard or MDF, because it may sustain years of use without losing its aesthetic appeal.
Last but not least, solid wood is known for its sturdiness, inherent beauty, and adaptability.
Each solid wood cabinet is distinctive due to the wood's grain patterns and knots. The natural texture can be treated in various stains or painted for a personalised appearance.
The disadvantage of solid wood is it will warp and split more easily in humid conditions. But if the bathroom is well-ventilated or the humidity level is controlled, you don't have to worry about it.
Solid wood vanity cabinets can last many years and be passed down as heirlooms when properly maintained. Though they can be more expensive than the other options, if you want a stunning and durable option for a vanity cabinet, you can't go wrong with solid wood.
Determining Storage Needs, Style And Budget
When deciding on the ideal vanity for your bathroom, you will begin by evaluating your storage needs. Taking stock of the things you intend to store in the bathroom might help you get a sense of how much storage space you'll need. Common products on the list include towels, toilet paper, cleaning agents, toiletries & personal care products.
Then finding out how much and what kind of storage space you need is the next step.
Which is preferable: Open shelving or closed cabinets?
There are things you want to conceal in a locked cabinet and things that can be easily accessible on open shelves. Having both options together can create a balance between convenience and privacy.
You'll also want to consider the number of basins you need when deciding on a storage layout. A double basin vanity unit will be a good idea when you have the space for it as it offers twice the storage space than a single basin unit.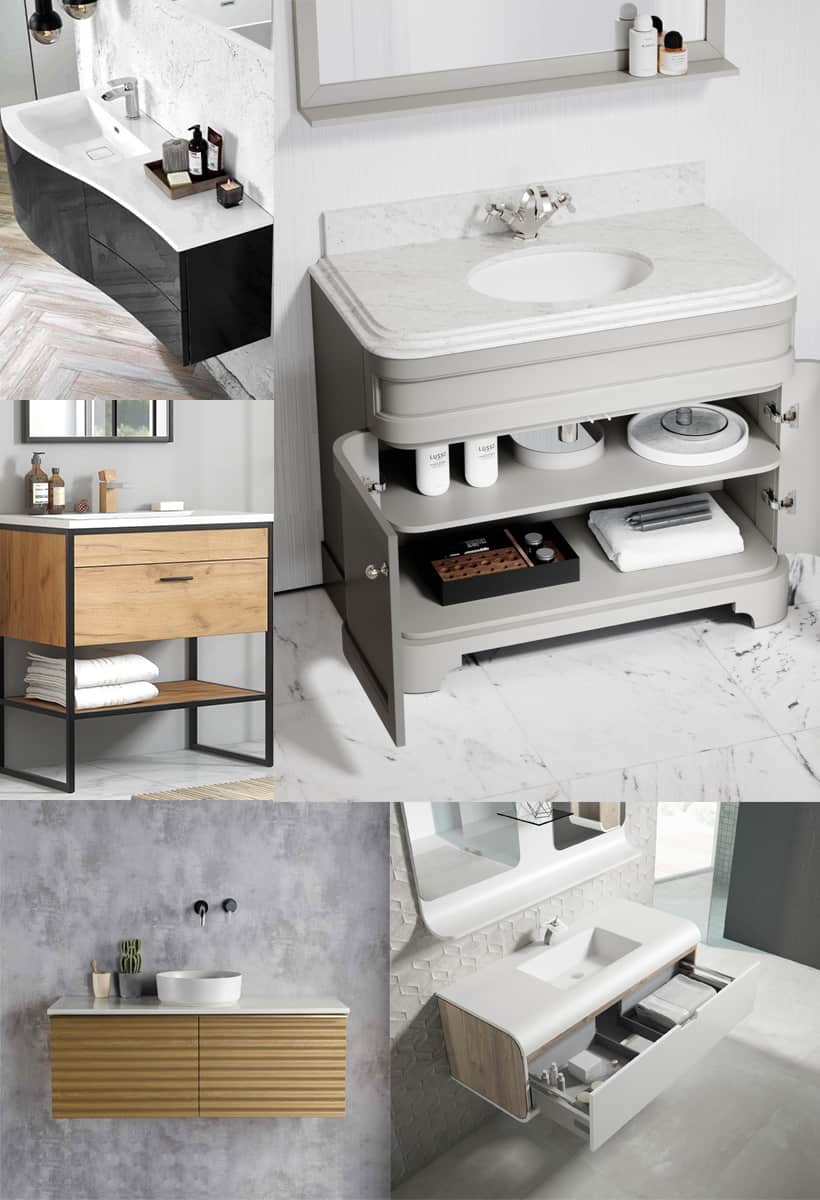 There are a variety of vanity unit designs available, each with its own features and aesthetic components.
Traditional vanity cabinets are often built from wood. They have exquisite carvings, raised panelling, and polished hardware, among other decorative elements. They have a timeless appearance that complements traditional or period-style bathrooms.
On the other hand, Contemporary vanity units have clean lines, minimalist designs, and contemporary materials such as glass, metal, and stone. They are frequently equipped with elegant, handleless drawers and cabinet doors, making them an ideal choice for modern or minimalist bathrooms.
Rustic vanity units are a popular alternative for individuals desiring a natural, earthy design. Vanity units crafted from rough-hewn wood and having simple, uncomplicated designs add a touch of nature to your bathroom.
Lastly, consider how much you are willing to spend on a vanity unit. Bathroom vanity units in the UK range in price based on size, materials, brand, and features. Entry-level units start at around £50, while mid-range options cost between £200-£500.
High-end units made of premium materials, such as solid wood or natural stone, can cost upwards of £1000. Custom-made vanity units can also be more expensive.
Some popular brands in the UK include Hudson Reed, Homebase, Ikea, Duravit and more. When shopping for a bathroom vanity unit, don't just consider the initial cost but also the product's long-term durability and maintenance needs.