The Best Bath Material That Meets Your Needs
Choosing the right bath material for your home can significantly affect how comfortable you feel while bathing. It also greatly impacts the overall look and feel of your bathroom. But most of all, having the right material can ultimately save you money in the long run.
There are many different types of materials available for baths. Some are extremely durable, while others may not. But more importantly, for most people, the cost is the main thing that can affect their decision to acquire the desired bath.
Therefore, choosing the right type of material that meets one's budget requires some research effort. It begins with understanding your usages, like frequency, duration, and probably ease of maintenance. Some materials require extra care, so they are probably not so suitable for busy city dwellers.
For a first-time buyer, it is best to know the various materials and their pros and cons. Then costly mistakes can be avoided when considering the type of bath material that best meets their needs and budget.
Understand Your Needs First
Knowing what you can and can't accept will ensure you make the right decision right from the start. For example, is the bath weight an issue for your upstairs bathroom? Do you need excellent heat retention because you love to take long baths? How about durability and ease of maintenance to suit your busy lifestyle? And more.
Whether it is a modern or traditional material, each offers different properties to suit users' preferences. Choosing the right bath material becomes easy when you know what you want. So it is not so much about which is the best material but which material best meets your needs and budget.
Material Types and Their Pros and Cons
There are different types of bathtub material available today. If you are only starting to look for a bath for your bathroom, it is impossible to not come across these materials, which are,
Acrylic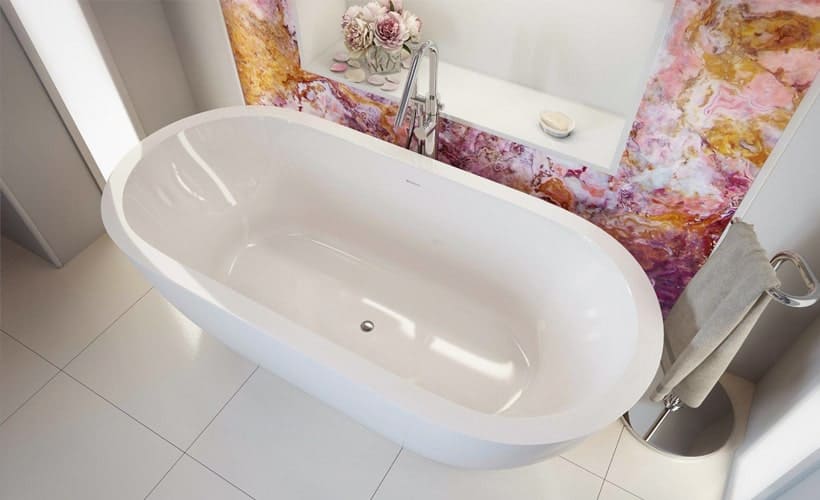 Due to its low cost and versatility, acrylic is one of the most preferred bath materials. As there is a wide range and variety of shapes to choose from, acrylic bathtubs are highly adaptable. They are usually available in a standard white finish and may be coloured to match any bathroom decor.
In addition, acrylic tubs keep water at a comfortable temperature for a reasonably long period, so you may enjoy a long soak.
It is a safe choice if you don't intend to spend much on a bath and are likely to replace it in a few years or plan to relocate. But that does not mean it is a less durable material. It can easily last a good 15 to 20 years when well maintained.
You can find an acrylic bath almost in any contemporary style or design, like straight, alcove, standalone, corner, P or L shape and freestanding baths. Among the wide variety of baths, an acrylic straight bath is the most common design and the lowest cost.
Acrylic –
Advantages
Acrylic –
Disadvantages
Steel Enamel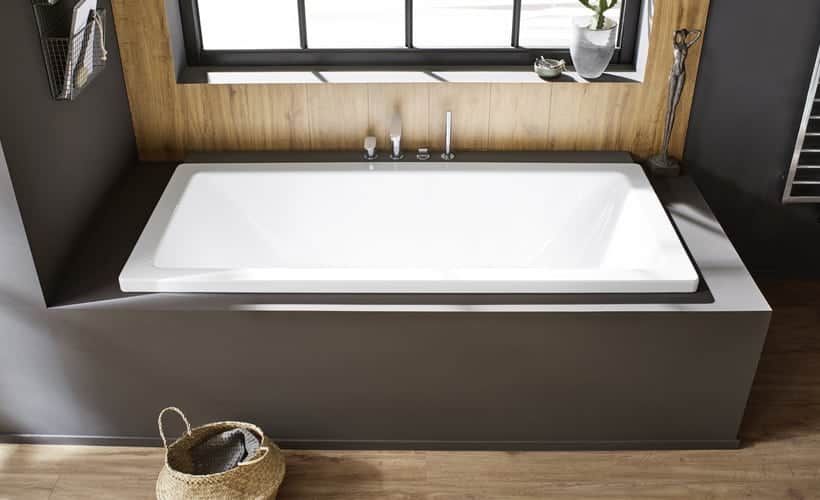 Enameled steel or steel is another common material besides acrylic. However, steel alone is not appealing at all. It is the enamel coating that gives the steel bath its bright lustre and luxurious feel. The hard and glossy finish lends the bath the elegance that designers strive for in their portfolios. So, steel baths are almost always a good idea if aesthetics are your top priority.
Price-wise, it would depend on the style, size and thickness. You can get a regular-size (1700mm length) straight single-ended steel bath for under £200. But the steel thickness is usually around 1.8 to 2.2mm at this price point. Not a recommended thickness if you want a durable bath that doesn't chip easily.
The minimum recommended thickness for a steel bath (including the enamel coating) is 3.5mm. It is tough to chip at this thickness and highly resistant to scratches. Also, a thick porcelain coat will have the advantage of better heat retention.
So, not all steel baths are great for maintaining the water temperature for longer periods; it depends on the bath's body thickness. This is because steel is a good conductor of heat. So the cheap 2mm thickness steel bath will not have enough enamel insulation to sustain the warmth.
Steel Enamel –
Advantages
Steel Enamel –
Disadvantages
Cast Iron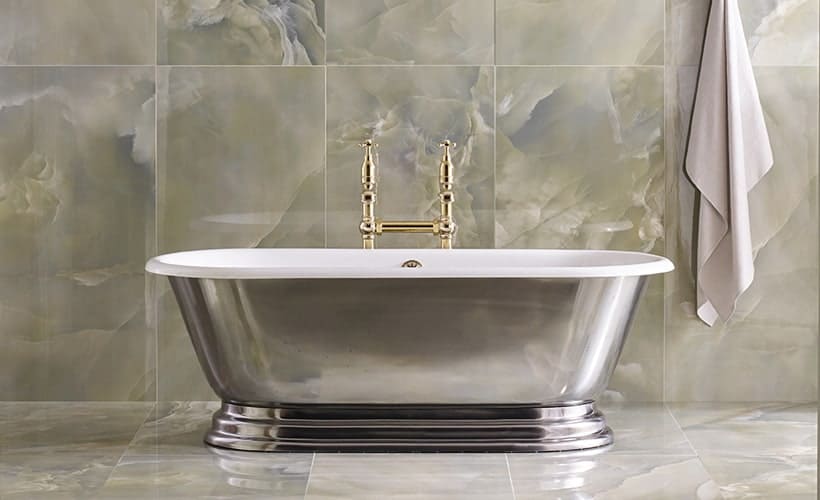 Cast iron baths are synonymous with freestanding baths because of the long tradition since the 1800s, where baths are typically clawfooted and weigh at least half a ton. Though they are no longer that heavy, most modern cast iron baths will still require floor reinforcement. Even a small 1500mm bath can weigh a hefty 140kg easily.
Moulded with molten iron and glazed with a layer of enamel for protection from chemical wear and corrosion, as well as chipping and scratching, cast iron baths can last a lifetime. And as a result of their durability and resistance to damage, they require very little upkeep and are a breeze to clean.
But more importantly, the vitreous enamel and the thick tub body (at least 10mm thick) slow down the heat loss, thereby ensuring a long soak at your desired temperature. According to some experienced users, cast iron bath retains heat for much longer than any premium-grade acrylic baths.
A cast-iron tub requires meticulous preparation and installation. Each bath can weigh up to 220kg, so it will require more pairs of hands to set it up; definitely not a job for a single person to handle. It is also crucial to ensure that the intended location can support more than the weight of the bath and the water contained within it. And remember to include your weight as well.
Cast Iron –
Advantages
Cast Iron –
Disadvantages
Natural Stone and Stone Resin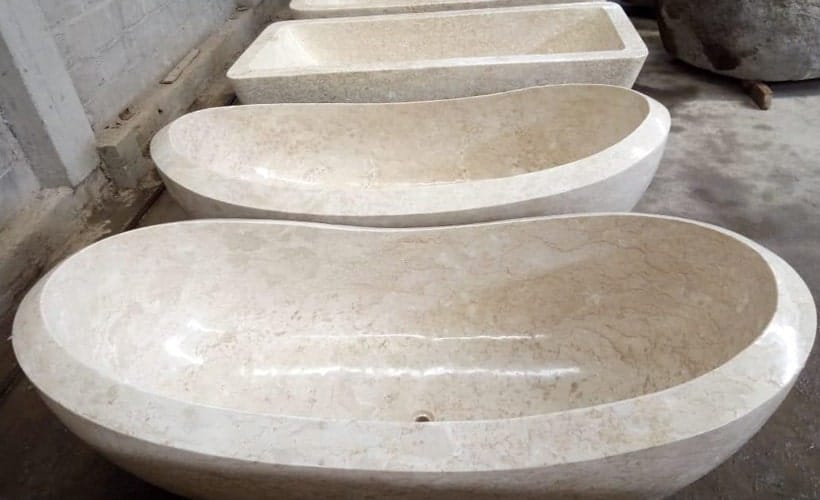 Stone is also a common bathtub material if you are looking for excellent heat retention properties and stunning aesthetics. And like cast iron, it is hardly used to make straight baths. Isn't it a waste to make them look like acrylic or steel baths, right?
The making process of stone baths can be as primitive as carving or sculpting out of a boulder or stone block quarried from stone mines, either by hand or using modern tools and machinery. Or moulded from an engineered composite of resin and stone. The latter is primarily suited for mass production and is mainly retailed through bathroom stores. And the former can either be off the shelves or on a bespoke basis.
They are better known as stone resin baths when they are not chiselled out from a whole piece of rock. And the advantage is that the surface is non-porous, which will not cause mould and stain issues.
Heat retention is excellent, much better than cast iron and acrylic. If money is no object and you are a die-hard long soaker, the 100% natural stone bath is almost not an option. Otherwise, the stone resin version is still a better choice and much more affordable (and lighter).
Natural Stone and Stone Resin –
Advantages
Natural Stone and Stone Resin –
Disadvantages
Important Factors to Consider For Best Heat Retention
Apparently, not all baths are created equal, as you have learned above about the different tub materials. Each offers varying efficiency in maintaining the water temperature. And the more expensive material will invariably be better at holding the warmth.
So if you want a satisfying soak, which usually means a good 30 minutes without the water losing too much heat, you need to spend more for a cast iron or stone bath.
But that's only half the truth the bath company wants you to believe as the only reason. There are more factors affecting the cooling-off timing than meets the eye. If cast iron or stone isn't ideal for you, whether it is due to your budget or the floor strength, consider these other factors that will help acrylic or steel be your go-to material.
Bath Thickness – The thicker it is, the better it can retain heat, regardless of material type. The thickness can get up to 10mm for acrylic, but you may need to search a little harder as the common thickness is 5mm.
Bath Dimension/Water Surface Size – Generally, a smaller bath can hold heat better than a larger bath. As the water surface size correlates to the bath size, the larger bath will dissipate heat faster than the smaller ones. Though you can do nothing with the bath dimension, you can slow the heat loss by using a bath cover or anything that will reduce the water surface area.
Bath Type and Installation – Freestanding bath with open space around it will cool off faster as the heat is freely dissipated in all directions. Consider installing the bath against the wall. This way, the wall becomes like an insulation and reduces the exposure of the bath's body to the surrounding environment. So pick the bath type carefully for maximum heat retention efficiency.
Bathroom Size – It takes more energy to heat up a large room versus a small room. So relatively speaking, the air in a large bathroom may cool the bath faster than it (the bath) tries to heat up the room. You may want to install a heater in the bathroom if the water is cooling too fast for a satisfying soak. This will help reduce the temperature difference between the surrounding air and the bath water, thereby slowing the heat loss.
Temperature In The Bathroom – Ideally, the temperature in the bathroom should be about the same range as in the living room during the winter months – typically about 22 °C to 25 °C. However, to achieve that, a heating system for the bathroom might be necessary.
Then, you may raise the thermostat bar to help keep the bath water warm for longer. But be careful not to be overly warm in the bathroom to the point you can sweat while towelling off. And the humidity in the bathroom may reach unhealthy levels that promote mould and bacteria growth.
Use a Bath Screen – A bath screen can be an ideal solution if you don't want to mess with the bathroom temperature and humidity. Depending on the screen size, it can contain the heat around the bath to a certain level. So the water will not cool off as fast as without a bath screen.
In Other Words…
There are many more bath materials you can look into other than those popular materials. But whatever material you are considering, the fundamentals must be met before pulling out your credit card.
So basic questions like these will help direct towards the ideal bath and stay within budget,
1. Do you have the space and floor strength to install a bath?
You may already know at the back of your mind, but it is the most important before anything else. This question will address the size and weight of the bath and help you understand your options. The stronger the floor is, the wider the range of materials you can use. Of course, that's assuming you have the space for whatever bath size you are considering.
2. How much are you prepared to spend on installing a bath?
To ensure you avoid impulsive spending, having a budget set at the beginning will help you stay objective and practical. And do include the installation cost if it is for a replacement. You may adjust as you explore further.
3.
How easy is it to upkeep the bath?

When was the last time you cleaned the toilet? Avoid natural stone if you can't recall. Then let your budget decide on anything from acrylic to stone resin since they are non-porous and easy to clean and maintain.
4
. How long can the water stay warm?
Every salesperson loves this question because it's an opportunity to sell you a more expensive bath so they can earn a higher commission. But you have read the numerous ways to
prolong the warmth of the water
, and it definitely opens up more options at your disposal. If you don't have the budget for stone, no problem. It's cheaper to install a room heater or get a thicker acrylic or steel bath. Otherwise, a bath screen doesn't cost much, either.
5. Which of the bath materials offers the best aesthetics?
Aesthetics are very subjective, so define your own and weigh it against your budget and all the factors above. You will have the answer instantly.
Ignore the money part; what's your favourite bath material, and which have you tried so far? Leave a comment below if you'd like to share your bits.