Bath Shower Screen Buying Guide
When you do not have the luxury of space for a separate shower enclosure in the bathroom, a bath screen offers a good bath showering solution even in the tightest spaces. Because nobody likes a wet bathroom floor. If the floor is constantly wet, it can cause damage to the flooring and mould issues, and it is also a fall hazard.
But do you know what to look for in a bath screen? And what are the things to consider before going ahead with your purchase? You may think it is just a glass panel that sits over the bath rim; how complicated can it be?
You're right. It is simple if you know what you want and are aware of the various bath screen type at your disposal. Otherwise, you may end up with some inconvenience, possibly even compromises on safety, and cleaning can become a drag.
So, if you are tasked to look for a functional and stylish bath screen and have no idea where to begin or simply want to explore the options, read on.
Screen size is basically about the length (or width) and height. The more important dimension here is the length; the longer or wider it is, the better it can keep your bathroom floor dry when you shower.
Your choice of bath screens will base on the bath size and shape. For example, if you have a P-shaped bath, a straight square screen will not fit. But that doesn't mean you have limited choices. There is no lack of options even for a curved-shape bath screen.
Of course, you are only limited by your imagination for the straight baths, regardless of the bath size. And last but not least, even water pressure can affect your decision on the screen size.
Bath Size versus Screen Size
How much space is needed for you to get in and out of the bath easily and safely? Of course, the bigger, the better. But try to allow at least 800mm, which is about the width of a regular bedroom door. The rest will be the width of the bath shower screen or the extent of the glass panel(s) taking up the overall bath length.
The maximum bath screen width: Overall Bath Length minus the desired Opening Length.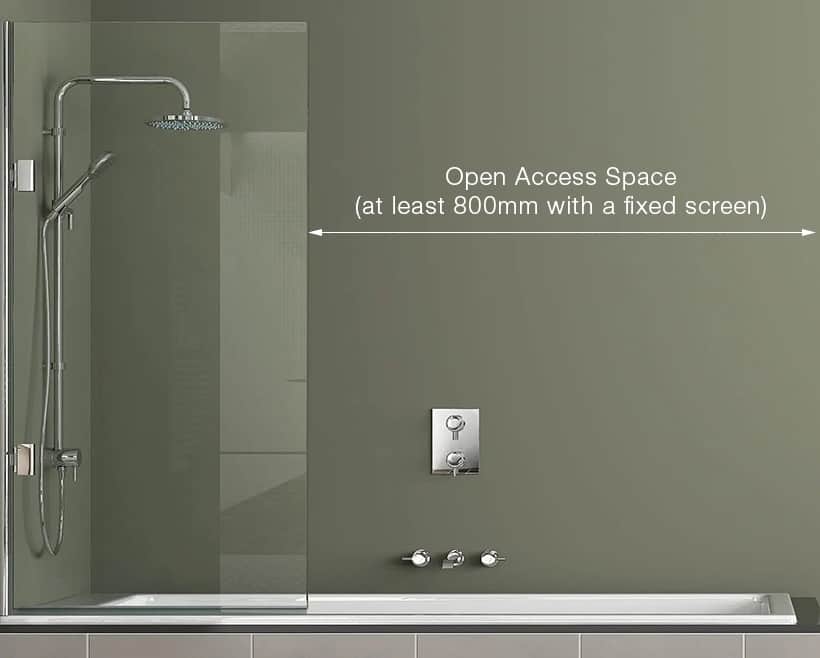 However, this measurement of access space and bath screen size only applies to single bath screens, fixed or hinged. Good for large baths with a bath length of 1800mm or longer.
A fixed screen is not practical for smaller baths, and safety can be a concern if the opening is too narrow for easy access. The best solution would be to go with a sliding or folding option. You can even have a full-length bath screen and still have ample space for access with folding screens.
Single screens are popular for their modern and minimalistic appeal. And they are super easy to clean and maintain.
But what is a reasonable width for a single screen to effectively keep the water from splashing out?
There is no straight answer to that, but you can easily obtain the perfect screen width for your bath with a simple trial and error. (Find out more in the Types of Bath Screens) TOC
Shower Power
If you like power showers, there is no way a 700mm wide bath screen will totally block the spatters from shooting out of the bath. Maybe even a 1000mm glass panel can barely stop the splashes as well.
So don't forget to consider the water pressure, or it can be as good as not having the bath screen.
But, it all depends on the spray angle. If you love a rainfall shower where the angle is straight down, a 1000mm single screen may be good enough to block 90% of the splashes. Otherwise, consider a wider or L-shape bath screen like this Nuie NSBSR1 Pacific if you insist on having a fixed screen.
Air Flow
While bath screens help keep the water within the bath, good airflow is just as important in a shower and often overlooked. If you experience sweating right after a hot shower, poor air exchange within the space is the culprit.
You can take measures to avoid post-shower sweating, but a well-ventilated bathroom will solve 90% of the problem.
When you are overly concerned about wet floors during showers, you will tend to over-screen. Thereby restricting healthy air exchange that causes the air in the shower to be hot and humid. Especially for small bathrooms, good ventilation is crucial to keep humidity at a reasonable level.
So, choose the bath screen type and design carefully that will not hinder airflow in the shower and minimise water splashes simultaneously. Otherwise, consider installing an exhaust fan and dehumidifier to help regulate the temperature and keep the moisture level down as much as possible. TOC
Bath Shapes
What type of bath screen to buy will depend on the bath type or shape. The most common ones are the single panel bath screens or the square bath screens. They are easy to install and clean, perfect for a straight bath or any tub with a straight rim.
There's not much about square bath screen designs other than the glass thickness and dimension. After that, you can have it fixed or hinged, framed or frameless. Or, if you care about airflow and want to maximise the open space, the contemporary sail screen designs or round corner screens is a refreshing addition to the classy square.
And for shower baths, usually, there will be an option to buy the matching shower bath screens with the bath. Highly recommended to buy the screen with the bath if you are not prepared to go through the sea of screen sizes yourself. But make sure to check the glass thickness before ordering. A 6mm thick glass is good, and 8mm will be perfect if you don't mind a higher price.
The screen for the L-shaped baths will be easier to replace if the accompanying screen's thickness is not up to your requirement. But finding a matching screen with the thickness you want for the P-shaped baths can be tricky. So getting the curved screen together with the bath is always a wise decision. TOC
Single Glass Panel – Straight & Curved
Contemporary bath screen design calls for a minimalist look, ease of maintenance, longevity, and safety. If these are your requirements, you are looking at the single glass screens, fixed or hinged, and likely to be frameless.
Though it looks simple enough, picking the right width to effectively contain water within the bath is a favourite discussion in many home improvement forums. Some suggest a 700mm wide screen is good enough; others prefer 850 or 900mm as a minimum. But what is the right width for you?
Instead of guessing, you can find the right width that works perfectly for yourself by trial and error using a cheap rod and curtain set. And turn on the strongest shower mode and shower. Try a few widths and check the amount of water on the bathroom floor each time. Make sure the floor is bone dry before each trial.
And depending on what you can accept, it could be 80, 90 or 100% dry; mark the width that gives you the best result – that's the minimum screen width for you. Then get the next bigger size screen closest to your measurement. For example, if the measured width is 857mm and the closest standard screen width is 850mm, buy the 900mm screen.
But don't neglect the access space as discussed above. If the screen leaves too little space for access, make it hinged or double panel hinged. It is of paramount importance that anyone using the bath can get in and out of the bath easily and safely every single time. Also, a hinged bath screen makes bath cleaning easier inside and out.
However, the curtain method is useless for a curved screen because it depends on the bath's curvature. You may not get the right fit with a bath bought from a different vendor or manufacturer, especially for some corner baths. So please check with the vendor if they have a matching curved screen if you intend to get one. Or seek their recommendation of a third-party screen before buying.
A single fixed screen is the easiest to maintain and the favourite bath screen of all. And since it is not movable, it is probably the most durable bath screen compared to the following screen types. TOC
Fold-able Or Swing-Opening Screens
The main advantage of a hinged screen is, of course, it can open up more access space and offer adequate shielding of water splashes. A good option if you have limited space for a fixed screen. But the drawback of a hinged screen is the need for considerable clearance space around the bath.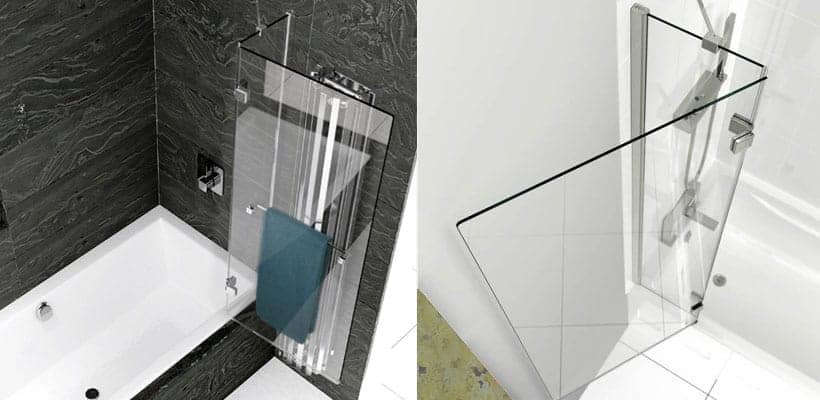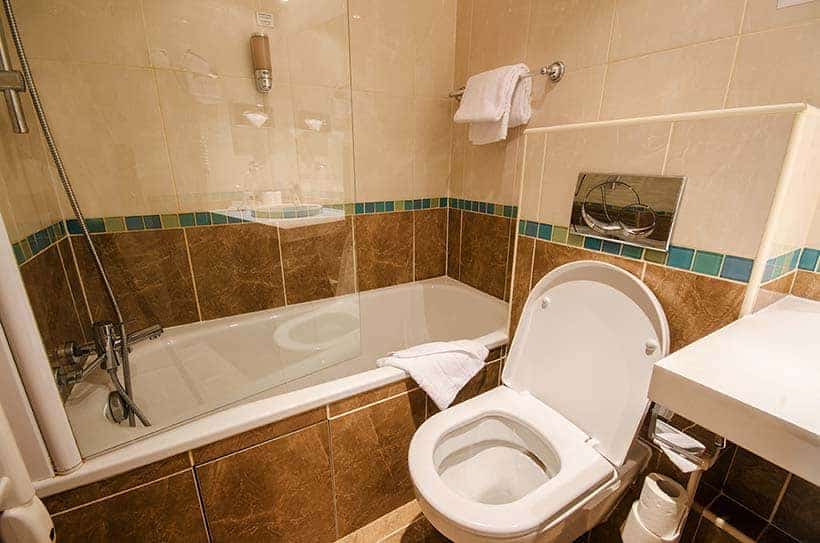 Some people will still prefer an outward opening screen regardless of whether they have ample space for access. Because to be in the way of cold water streams when the showerhead is turned on is no fun, even for a mere second. With a hinged screen, water can be turned on from outside the bath to let the water heat up before entering.
However, like all movable parts, wear and tear are inevitable. Periodical replacement of the seal to prevent water seepage and ensuring the hinged is in good working condition are some maintenance efforts required.
Likewise, regular maintenance is a must for folding screens. It's just that there are now more than one hinged bath panel. The more panels there are, the more flexibility you have with accessibility. But correspondingly, there will be more joints and panels to clean and maintain.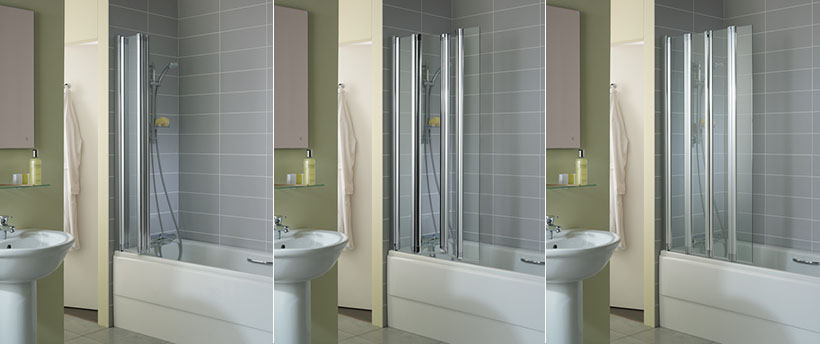 But don't let the maintenance bit affect your decision. Folding screens are relatively easy to maintain, actually.
The folding screens offer the widest open access from a simple two-panel fold up to 5 panels. If you like the unobstructed feel both in airflow and visual when taking a soak, you can't go wrong with a folding screen. TOC
3. Overbath Slider Screen
Another effective bath screen to consider when balancing access space and screen width is the sliding glass screen. Not as flexible compared to the folders, its simple operation is its main advantage. However, sliding screens require rail to operate, which adds quite a bit of maintenance chore. A little greasing once or twice every 3 months will keep the door(s) sliding smoothly.
And keeping water off the rail hardly qualify as ease of maintenance. Especially when the sliding panel is not fully extended out habitually, dirt combined with moisture may lead to the formation of gunge over time. A thorough clean up of the rail is necessary at least once a month.
The slider is a practical bath screen for optimising space in any modern bathroom, and they are not limited to flat and square designs. If you have a P-shaped bath, you can choose from several brands that offer the sliding option for curved bath screens.
If you like the simplicity in operation and wouldn't mind that little extra effort in maintenance, the sliding screen is the perfect solution to a limited width for a shower and bath. And aesthetically, it is a modern bath screen that blends well with all contemporary styles in bathroom designs.
How about a flexible screen like this AICA AQ2-90? It can swing and slide.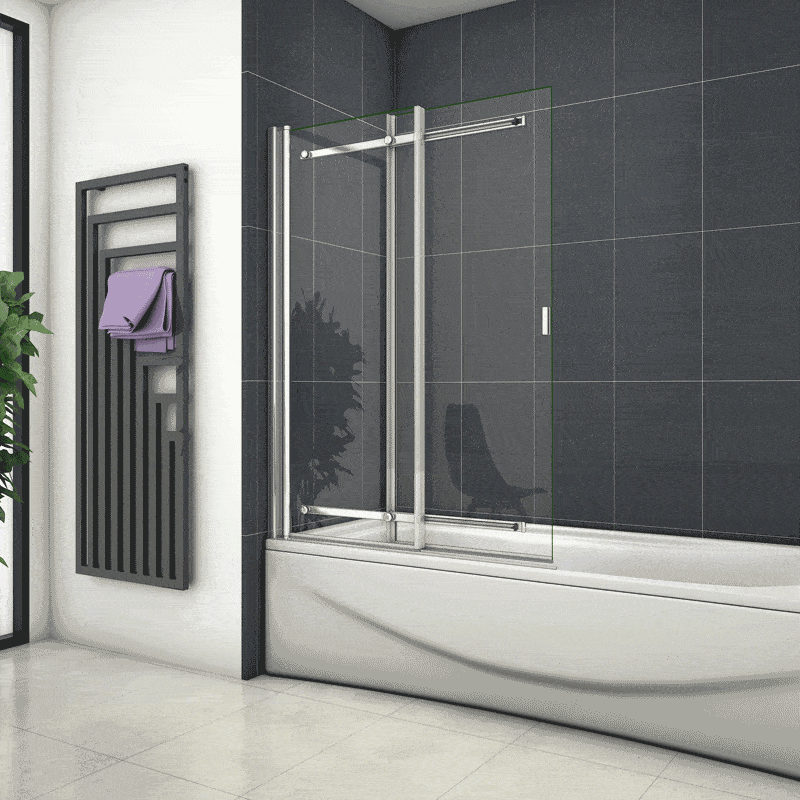 Toughened or Tempered Glass
There may be more, but glass and acrylic or plastic are the two screen materials you will encounter most in the market. You will see 95% are toughened glass or safety glass, more popularly known as tempered glass. And because of building regulations, all glass panels used for windows, doors and, in this case, bath screens have to be toughened safety glass.
The durable safety glass used to make the bath screen must conform to BS and European standards BSEN12150 and BSEN12600. Both standards regulate strict impact and shatter requirements that prevent cut injuries when the glass is broken. But rest assured, tempered glasses are not easily shattered.
Toughened glass has high impact strength, and it won't bend or deform. The thicker the glass is, the tougher. A good thickness is 6mm, which is the standard with most screens offered. But an 8mm or thicker is better but heavier for the wall and floor to support. So, if you want the thickest, it will be a good idea to consult a professional if you are unsure of the structural support strength (such as plasterboard walls and wood structures).
As its name implies, toughened glass is about 4 times stronger than annealed or ordinary glass. But that does not mean it won't break. Especially in the shower environment, the glass is frequently subjected to cold and hot temperatures; small damage on the edge or surface can expand and lead to breakage over time. Though that is rare, it can happen.
And how do you tell if the glass is toughened? The quickest way is to look for the stamp, usually located at a corner of the glass pane, with a CE mark and the standard code EN12150. But what if you can't find the stamp anywhere? The following video by Glass Genius shows how easily you can identify tempered glasses. TOC
Don't Accept Unverified Glass Screen
Even though the bath screen you are having has the tempered glass characteristic, you should only accept those that conform to EN12150 and/or EN12600. So, if you don't see the etched stamp anywhere on the pane of glass you bought, verify with the vendor immediately and insist on a reply in writing.
And for this reason, it is always safer to buy from reputable vendors or brands. But still, check that there is documentation such as catalogues and specification sheets that clearly mention the standard EN12150/EN12600 of the bath screen you bought or intend to buy.
Acrylic or Perspex
Lightweight, higher impact resistance and lower-priced are the key advantages of acrylic. Their higher tensile strength makes them safer since they don't break or crack like glass. However, they lack the stiffness and stability of tempered glass. They are prone to bend or warp over time leading to leakage at the edge or between joining panels.
What makes acrylic screens less popular is the feels-cheap factor. They don't have the heft and the aesthetic appeal that glass does. But the lighter plastic screens are a good option when the wall or floor has a low strength limit. Or, for example, if you need a temporary screen because you will be relocating, the cheaper acrylic screens are an option to consider.
Visually, acrylic has almost the same clarity as glass, if not better. When glass reaches a certain thickness, the light transmittance level drops but not in the case of acrylic. However, acrylic screens are easily scratched when cleaning with rags and paper towels.
But it is always good to have a wallet-friendly alternative when cost is the main consideration. Whether it is a single static screen, double pivoted, sliding, or multiple folding panels, you can find it in acrylic or perspex.
Some people need to feel secure even when locked in the bathroom alone, so a private shower space can make them feel more comfortable and relaxed. Even a couple using the bathroom can feel awkward when not in the shower together. Then a frosted screen is the best solution for such situations.
Of course, if you prefer to have a bright shower space and don't need the added privacy, get the clear screen. Most modern bathrooms adopt a clear screen to create a transparent view of the entire bath area. The logic is why bother to put up a well thought out decor only to be hidden by a frosted screen. That certainly doesn't make sense.
Besides, a poorly lit space can affect vision that may cause imbalance and lead to slip and fall. So, if you feel you are no longer young and agile, perhaps a clear screen is a safer bet.
So frosted or not is not entirely about privacy; give a thought for personal safety as well. And for couples to avoid possible friction, it is best to discuss with the spouse before deciding.
However, you are not restricted to either black or white in this time and age. There are different shades of grey, if you would. You can choose a partially frosted screen or a varying degree of transparency. Or even tinted like a black bath screen or reeded.
The frameless screens are a favourite among interior designers in gracing their portfolios with contemporary bathroom decor. Because they offer an open and unobstructed view of the entire bath space, especially when there is an accent wall in the backdrop. It will also make the bathroom appear roomier with a minimalistic feel.
But that doesn't make the framed screen any less attractive. A framed screen can be equally eye-pleasing when blended with specific decor themes. However, you probably need the designer sense to achieve the desired style with a framed screen, including picking the right frame colour. And matt black or silver frame are popular colour choices for their neutrality.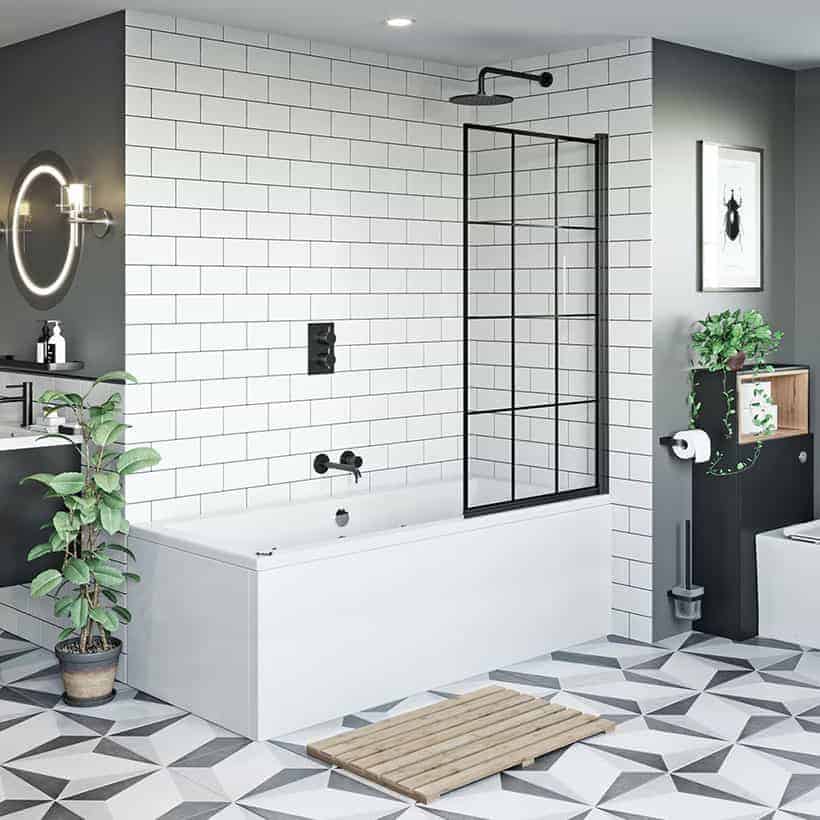 And one thing about the framed screen is it can make a small bath look even smaller, especially the grid screens like the image above. As a whole, and depending on how many squares you add to the space, the bathroom may also look and feel cluttered. So, if you are unsure about design principles and want to be on the safe side, go frameless.
Lastly, if you want cleaning to be easy, the frameless screens will be the obvious choice. The frame can catch and accumulate dust, which calls for more cleaning effort.
The challenge is always with the small bath. But with the range of bath screens out there, you won't lack options to consider. The main consideration should be the minimum access width. Though there isn't any standard regulating a minimum access space with installing a bath screen, a regular bedroom door width makes a good reference.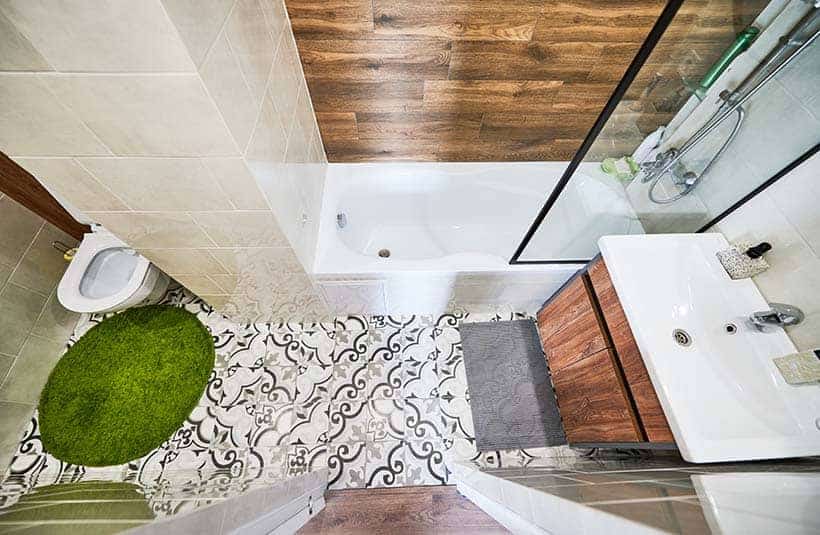 A fixed frameless single screen will be ideal if you want a maintenance-free (almost) shower screen over the bath. The screen width will depend on your bath's length and how much you have allowed for the opening width (recommended 800mm minimum).
If a swing screen is preferred, ensure there is enough clearance space for the glass panel to swing in or out fully without obstruction. In some cases where there is limited external space, a 2 panel in-swing bath screen is used where the narrower screen is fixed to increase the swing angle.
And when a swing screen is not feasible, you are down to the folding and sliding screens.
Do consider the airflow if you have a small bathroom. If necessary, use a ventilation fan beside a louvre. Stagnant air in a bathroom is unhealthy and provides a perfect environment for moulds and bacteria growth; it is literally a disease hotbed.
Last but not least, consider the showerhead's spraying power and angle. So choosing the right showerhead to go with the bath screen is one of the steps to take seriously. And fortunately, there is a huge range of showerheads that you can easily find the perfect one to match.