Are Shower Baths a Good Idea?
When the bathroom space is rather challenging to have a separate shower & bath, your best option has got to be the shower baths. These space-saving baths are designed mainly for compact bathrooms, and there are a wide range of shower baths to choose from, so there's no lack of options if you decide to have one on the bathroom floor.
But before you proceed to order the ideal shower bath, please make sure your bathroom layout has the required clearance space according to Part M – Access to and use of buildings, Approved Document M: Volume 1 – Dwellings.
And here's a little tip to help you avoid the mistake most people make when buying a shower bath with a bath or shower screen.
In most cases, the shower bath screen that comes with the bath is designed to swing out freely for full accessibility during bath cleaning. The swing-out may take up substantial real estate, so you can choose to have a swing-out, swing-in, or fixed shower screen for your shower bath, depending on the layout you have.
The Advantages and Disadvantages
PROS
The first advantage is, of course, you get the best of both worlds. Without sacrificing aesthetics and clearance space, you have a setup that allows you to take a quick shower or a long and relaxing soak as and when you fancy.
Your plumbing setup is more simple and centralised since the shower and bath share common pipings. The cost of installation and maintenance is greatly reduced.
Likewise, cleaning the bath also cleans the shower since they are physically One. You don't have two separate areas to upkeep.
If you have young kids, a shower bath will be a great addition, given the smallness of the bathroom. It is always easier to bathe kids when they are seated in a bath.
CONS
1. High Water Consumption
Because of the wider shower area, more water is needed to fill up the tub. Hence, the water consumption of a shower bath versus a standard bath is inevitably higher. It will not be a good idea for those who need a daily bath to unwind. (But there's a workaround to save water without compromising comfort. Read on.)
A shower bath may not offer the same comfort level as a standard bath due to its smaller size (shorter bath length). Plus, with the taps and shower screen closer to the centre of emotions (the mind), it may give a sense of restriction and enclosed feel when you are trying to relax and be liberated.
3. Safety Concern for Seniors & Person with Disabilities
There will be fall risks for seniors and persons with disabilities to use a shower bath without assistance. So, if the bathroom is shared by a senior or a family member with special needs, forget about having a shower bath. A barrier-free and curbless shower is almost not an option.
Your Expectation Sets Your Decision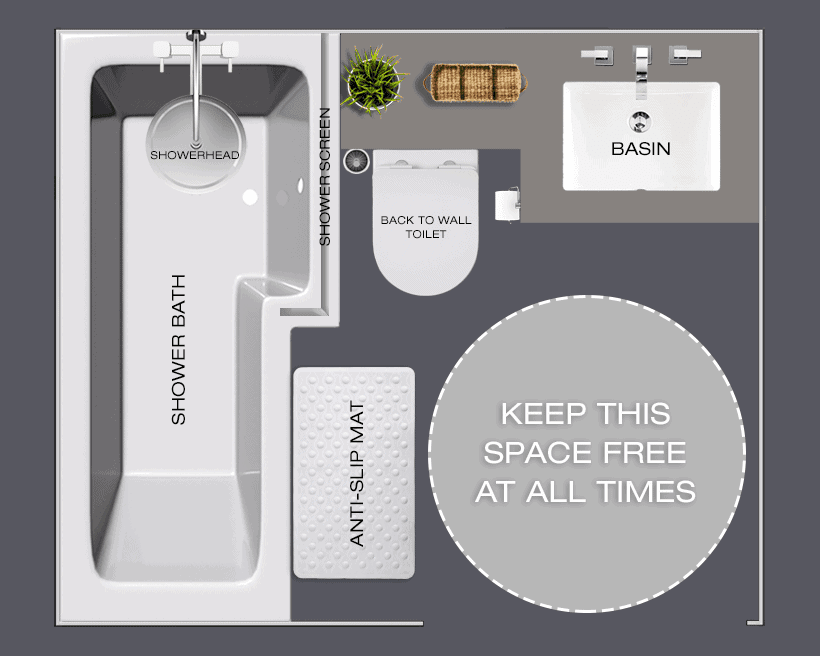 These pros and cons can vary with your bathing habits which determine your comfort, convenience, and aesthetics. For example, if you shower daily and only use the bath once in a while, the higher water consumption to use the bath is not much of a concern.
But if you need a soak daily and wants to be a little prudent with water usage, or perhaps a destressing soak is more important than aesthetics, you can consider a standard straight bath with a shower curtain. Or a straight shower bath with a bath screen that doesn't affect your relaxation is also available.
Of course, the modern shower bath is designed to look stylish and functional for those with a keen eye for details. So you don't have to sacrifice looks for comfort or vice versa. Then again, if looks, comfort and convenience are important factors, you can't do without, then are you willing to pay more for water consumption?
So, get your thoughts together and decide the best shower bath to buy that primarily addresses your need for comfort, ease of maintenance, water usage and how it blends perfectly in your desired bathroom design that also meets the minimum clearance space requirement.
Water-Saving Tip for a P or L-shaped Bath:

When soaking in a P or L-shaped bath, use a Gordon Ellis Ashby Bath Shortener in the bath to displace the water volume. Position it to the left or right (depending on the shower orientation) in the shower portion.
But of course, deciding to install one of these versatile shower baths is only the first step. Other little things like bath taps, bath panels, right or left-handed, etc., need careful consideration if you don't want any last-minute changes that may affect your installation schedule or screw up your bathroom planning.
Is It Only For Small Bathrooms?
No, shower baths are not necessarily all meant for smaller bathrooms. There are bath sizes as big as a regular size straight bath, which typically is about 1700mm x 850mm.
For some people, they would prefer to have a bigger living area. So a shower bath can save them the extra space for, maybe a wider corridor or a bigger living or bedroom, and a lower installation cost. But that does not mean they have to compromise on the bath size. They can still factor in the space for a large-sized shower bath when planning the house interior and layout.
So, unless your already built-up bathroom doesn't have adequate space for a shower & bath individually, a shower bath is probably the only choice. And depending on your existing bathroom shape and size, you might still be able to use a large shower bath.