A Comprehensive Bath Buying Guide
When was the last time you had a good soak in a bath or bathtub? It's not surprising to know it's been a while. And chances are, it's in a hotel or spa on your last holiday. You loved that experience and vowed to have one installed when you get home.
For most people living in the city, even taking a shower is in haste. It seems like nobody wants to waste time on a long shower because of that instinctive fear of losing out or missing an opportunity. So having a bath doesn't appear like a must-have fixture in the bathroom. And expected, FOMO gets the better of you, and the vow you've made is forgotten.
Is that also a reason why the bathroom is getting smaller generally?
Don't let space be another excuse not to have a bath. Ask the Japanese. Despite how tiny their compact bathrooms are, a bath is a must-have in almost every Japanese home. They know the importance of a good soak at the end of a trying day. And more so during the freezy weather. A relaxing hot water soak is simply out of this world for the deserving soul.
So, take back that vow you have made at the hotel spa, and let this bath buying guide show you how to pick the best bath and revisit that heavenly spa experience.
Bathroom Space Versus Bath Dimension
You will hate yourself if you skipped this first step and ended up with a bath that's either too big or too small. So before the shopping fun can truly begin, make sure you have the dimension of the space you intend to install the bath.
And the space area should also include the spacing to the nearest fixture or furniture in the bathroom. But not any spacing. It has to meet the minimum space requirement with the respective fixtures in the bathroom. The whole idea is to be cluster-free for safety and ease of access to all the fixtures. A vital consideration in designing any bathroom layout is an unobstructed open space area.
According to Part M – Access to and use of buildings, Approved Document M: Volume 1 – Dwellings, a minimum 700mm x 1100mm of open space area is desirable for easy access and safety. Of course, the bigger the open space, the better.
Try to declutter the bathroom to make the extra space for better accessibility if possible. The image below will give you an idea of what dimensions are needed when buying a bath.
In planning your bathroom layout, if you intend to fit the bath between 2 walls like the image above, do factor in the thickness of wall tiles for the overall length. Just in case you decided against having the wall tiled later, the bath can still fit in that space.
Maximum wall to wall space for the bath length = Wall Distance – (tile thickness x 2) But you probably want to know the standard bath size or a range of sizes to get a better idea of what options are at your disposal. Fair enough, let's get into bath sizes in the next section.
What Are the Bath Sizes Available?
After taking the available space measurements, the natural thing that comes to mind is what size bath can fit perfectly in that space. Or what is the measurement of a standard bath?
The variety of designs can often present some difficulties in picking your perfect bathtub. You may like a particular design, but the size is out. The worst is missing several centimetres to otherwise a perfect fit. What options do you have if that's the case?
From thin strips of timber to bricks or concrete to box out and tile the gap, let your imagination rules. But be cautious with the work and material used. It can be tricky to get it right to avoid cracks or silicon seal separating from the tile due to movement. When water seeps into the box-out area, it can potentially harbour dangerous bacteria and viruses.
Alternatively, if you can't accept any improvised work, get a custom size or bespoke bath. They are made to fit nicely in whatever the space dimensions. The range of shapes and designs will depend on the capability of the company you have picked to work with.
However, in most cases, the compromise is minimal because the range of baths in the market can cater to almost every need. Your dream of having a bath can only be realised when you know what size is suitable for your bathroom. The size range can be classified into Standard, Small, Extra Small (or Compact), and Large.
| Size | Length (mm) | Width (mm) |
| --- | --- | --- |
| Standard | 1700 | 700 |
| Small | 1400 | 700 |
| Extra Small or Compact | 1200 | 700 |
| Large | 1800 | 700 – 800 |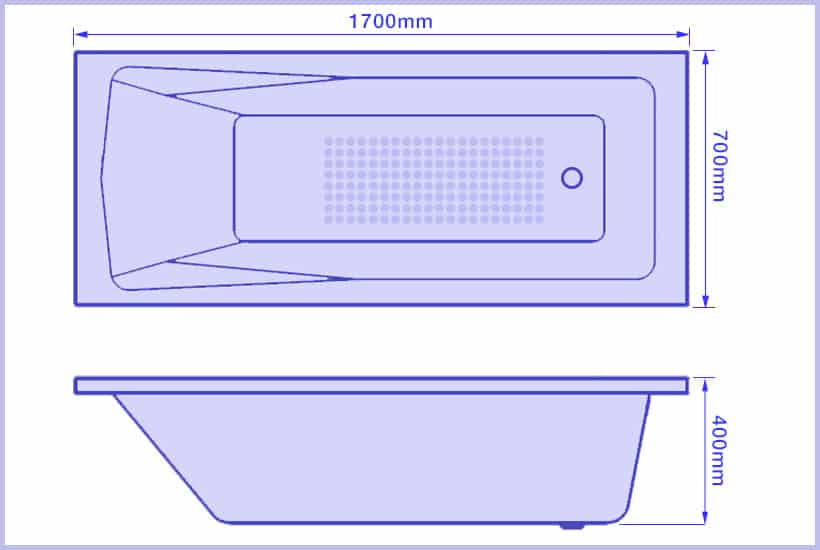 Not to worry, they are not cast in stone. It's just a general guide to help you with perceiving the various bath size. So when the salesperson on the other end of the call says, "Those models are small size bath", you will have a grasp of the dimensions right away.
Out in the marketplace, you will find many more options than just Standard, Small, and Large. Even if you need just 1690mm or 1680mm instead of the standard 1700mm long bath, you got it. Or a width much wider than 700mm; there is no lack of options.
So, if you want to add a bath into your existing bathroom, and depending on the space area, you may have to strike a balance between design and size. Of course, you will have the most expansive bath design options when space is not an issue, and you have a generous budget.
Now that you have the space and an idea of the bath size, it's time to sort out the type of bath that is suitable for your bathroom, both in function and style.
Types of Bath and Price Range
It is almost impossible to list all bath styles imaginable here. That's how vast the variety is and in no way exhaustive when new designs are rolled out each year. You are only limited by your budget and bathroom space.
But when you start to list your preferences down, you are pretty much done in your selection. It is not that daunting, after all.
So here are the bath types for your shopping fun.
Straight Bath
The straight bath is rectangular and the most common bath type in the world. No introduction needed and you have certainly seen or use one before. Available in acrylic and steel (and even cast iron) and all practical sizes.
Depending on size, material type, and designs like single or double-ended, the price typically ranges from £100 to about £350. | Types of Bath
Freestanding Bath
When space isn't really an issue to begin with, a freestanding bath is possibly everyone's number one choice. No designer would miss featuring one in their portfolio because they are simply gorgeous and make a perfect centrepiece in any contemporary bathroom design. The slipper baths especially is a must-feature in every designer's portfolio.
The slipper baths typically have one or both ends curved upwards for a classy and unique appearance.
Without the restriction of walls, freestanding baths come in a variety of shapes. From angular to the curvaceous oval, you will be spoilt for choice. Other than shapes, aesthetic features like roll-top and claw feet add a touch of luxury, which is almost necessary for a Victorian-style bathroom.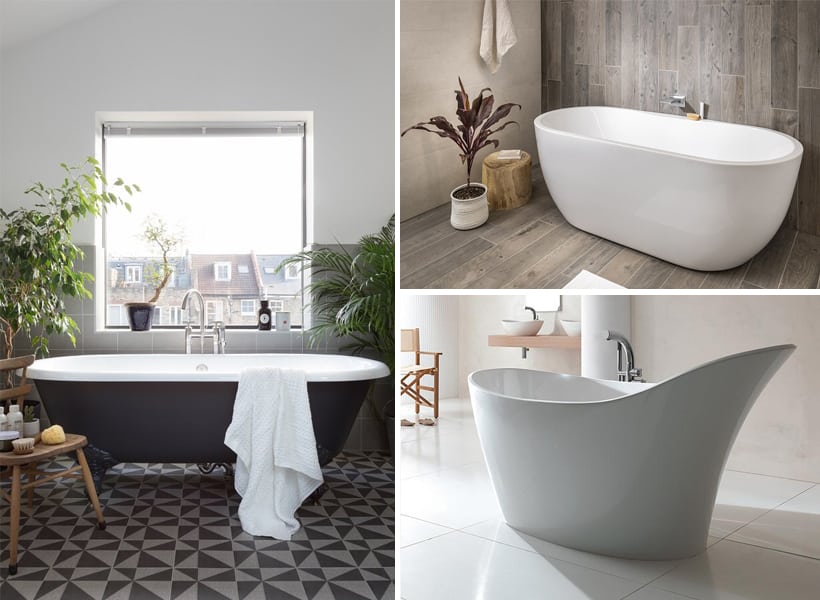 Size-wise, these freestanding baths are more generous in width and depth (or height). You can expect a width range from 650mm to 850mm. Most people find the 750mm width offers the best comfort, which explains why standalone tubs with this width are the most common.
The depth, or height, is also deeper than the straight bath, typically at 550mm or 600mm. The slipper baths will have one or both ends curved up, leading to a much higher overall height than normal when you read from the specification.
The freestanding bath is made without much consideration for space. It can be a challenge to find a compact size standalone bathtub, but not impossible. You will have to dig deeper, and they are probably limited in style and shape.
Length from 1500mm up to 1800mm is pretty standard for a standalone bathtub. It is available in acrylic, steel, cast iron, copper, and pretty much any material imaginable for a bathtub.
It all depends on your budget and preferences. The price of a durable freestanding bathtub begins at £300 up to £2000 or more. And the type of materials, size and design have a direct impact on the price. | Types of Bath
Inset Bath or Built-in Bath
As the name suggests, inset baths are designed as an insert into a frame structure. It needs to be supported like the washbasin on a countertop. But it is more like a cover for aesthetic because alone, it looks raw like an unfinished installation. You get a better idea of what an inset bath looks like in these images below.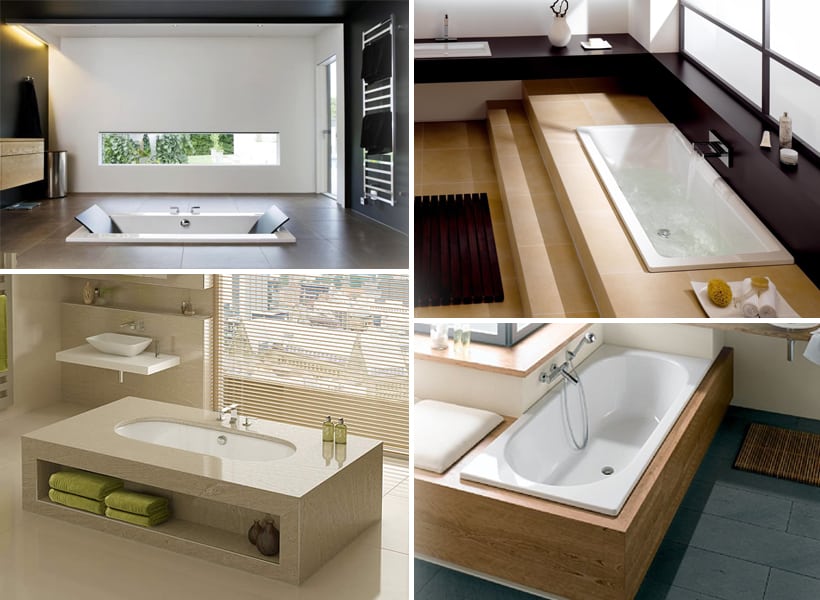 An inset or built-in bath is your best option when you don't have the space for a standalone bath. Or when space (lengthwise) is a little odd for fitting an off-the-shelf standard bath. And before room capacity begins to sound like a broken record of an excuse, this bath type can double as a shower. So, you can have the option without needing extra space for a separate shower.
And built-in baths are not limited to filling gaps of odd room dimensions. They can even rival the standalone tubs for aesthetics. How about a recessed bath that looks flush with the floor? Or blend in with other furniture for a clean line look. The possibilities are endless, with a variety of shapes and sizes.
Cost about as much as the free-standing bath; it just expands the number of ideas you can have. Please give it a good thought when planning for a new bathroom or even considering adding one to your existing shower room. | Types of Bath
P-Shaped Shower Bath
When you only have room for either a shower or a bath and somewhat undecided which to go for, a shower bath is your best answer. They are also called the P bath or P-shaped bath, or even L-shaped bath, whatever.
These shower baths provide the choice of a stand-up shower and a soaking bath. It is perfect for those who want a shower and bath in the bathroom but don't have ample space to have them as a separate facility.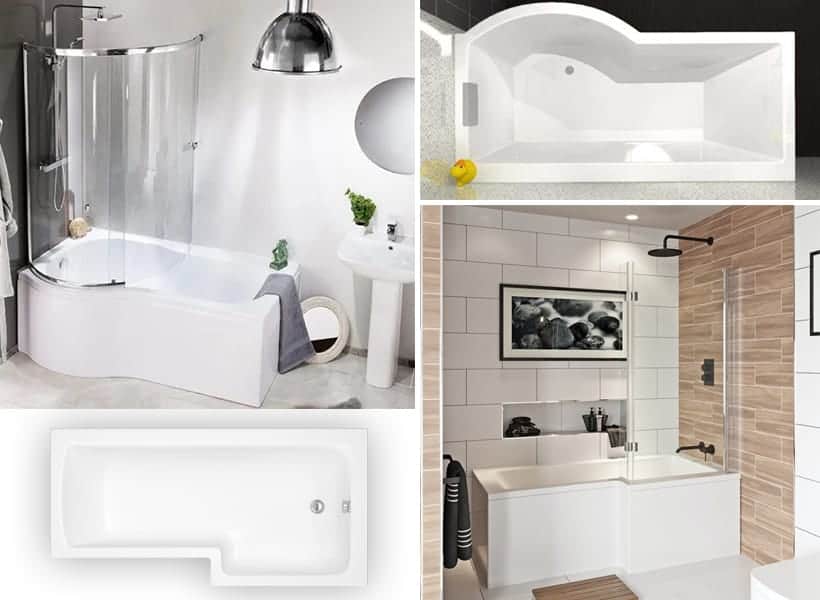 They are typically made of acrylic with 1500mm and 1700mm as the two most common sizes. Price ranges from £250 up to £800 with or without a shower screen. So make sure you look at what's included before buying. If the price is under £250, chances are the shower, or bath screens are sold separately.
The more important consideration is the shower orientation – right or left-hand version. Get this wrong, and you stand to lose some money on transportation for return or exchange and precious time wasted. | Types of Bath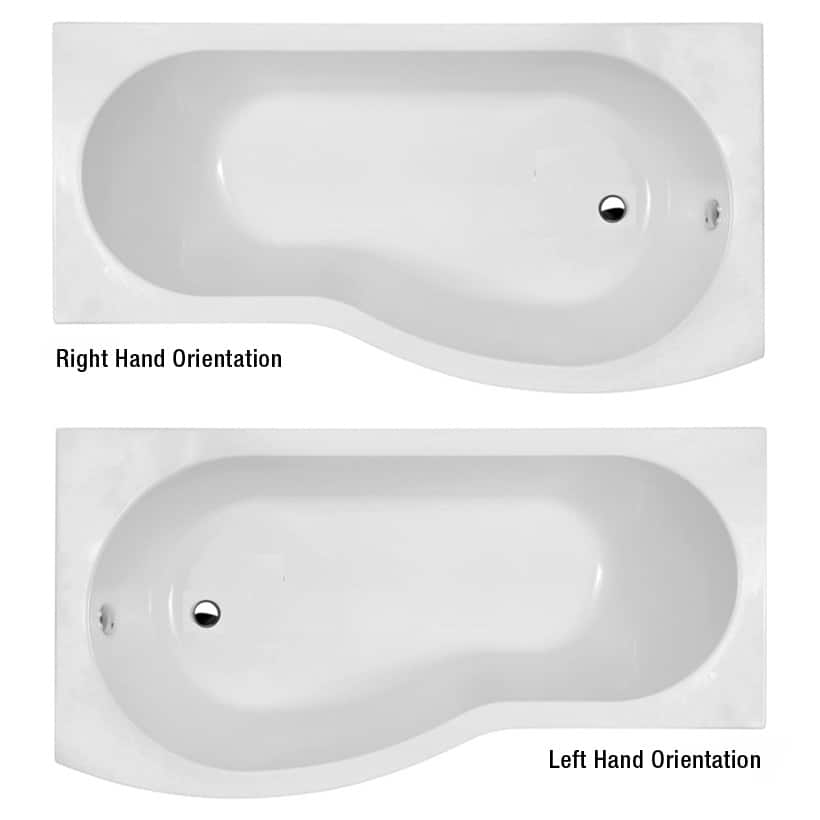 Corner Bath
When you need to squeeze out a little more open space in your bathroom, a corner bath is an excellent option to consider. Depending on your wall dimension, there is an equal-side design and offset corner bath to meet your requirement.
The offset corner bath has one side longer than the other, offering flexibility in maximising bathroom space. And just like the P-shaped bath, make sure you get the right orientation to where the shorter side should be, or you will be setting yourself up for lots of frustration.
But that does not mean everything has to be square and symmetrical. Some options offer a more rounded appearance, such as this Modern Designer Corner Freestanding Bath or the Orbit corner freestanding bath.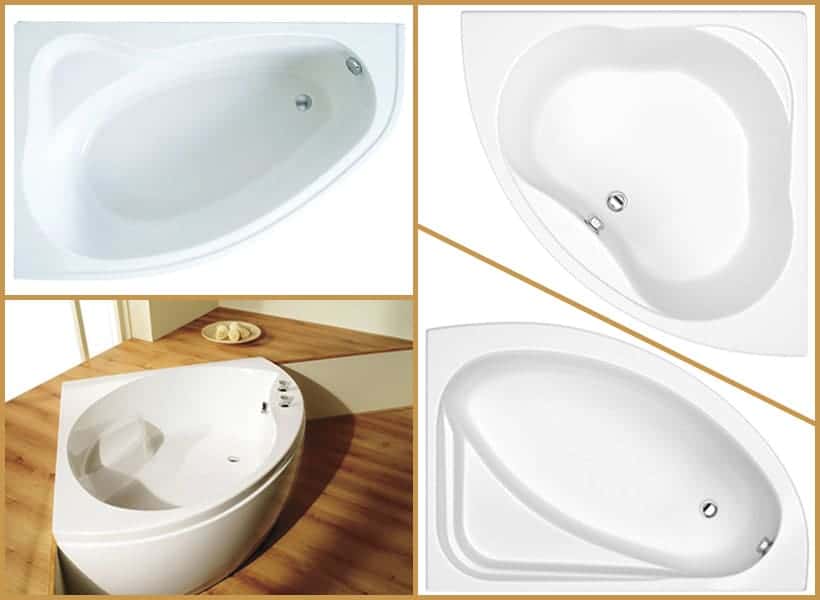 Corner bath are designed primarily to save space, so don't expect to get a regular length (1700mm and longer) off the shelves unless it's a bespoke or custom-made bath. The standard sizes are 1200mm, and quite often, you may also see 1500mm being offered, but rarely 1700mm.
You can get one off-the-shelf, around £300 up to £1000 on acrylic. And you will be surprised to see the variety of designs on end. It's not the space that restricts you, but your budget may. | Types of Bath
Japanese Deep Soak Bath
When all the bath types described above are out of reach because you don't have space for even the smallest of them all, and you don't have the budget for a bespoke bath, don't lose hope yet. Look to the Japanese deep soaking bath. Probably the only option left if you have a space area of under 1500mm by 1500mm.
The Japanese bath is a lot narrower and very much deeper. You can submerge your body fully from the neck or chest down, depending on your preference. Even though you can only sit with knees bent, you can't stretch obviously, it can still provide deep relaxation.
And because it has a smaller water surface area and deeper depth, the heat dissipation rate is reduced. Together with the thermal layers, the water is kept warm for a longer period. In Japan, they'd even keep the warm water by placing a cover over the tub to slow down heat loss for the next family member to use.
The only disadvantage is if you are physically tall, you may not be able to relax as much as you would like to. Then you are better off using it as a shower instead.
You can get an acrylic one with a length of just 915mm and 810mm deep (Asagi Bath) for less than £600. Or if you prefer an authentic Japanese Wooden Bath, it can set you off conservatively from £7000 to over £30,000 by Ofuro. Not for the faint-hearted. But if you must have it for a lot less, you should be able to find one (made of Cedarwood) for less than £700. | Types of Bath
Whirlpool Bath
If a regular bath is not good enough to appease your worn-out soul and body, you need a whirlpool bath. From the regular straight bath to a Japanese bath, whirlpool baths come in many shapes and sizes similar to the bath type you have read above. What that means is, you can almost find a similar shape and size whirlpool bath to replace your existing bath.
Also called a spa bath or jacuzzi, there are water and air jets fitted strategically inside the bath to create turbulence to give a massaging effect on your body. You can also control the water or air to your preferred pressure via various control method.
The number of jets will depend on your desire for the best relaxing experience. The more, the merrier as more areas of your body are getting the massage. Typically, you can choose from 6, 8 or 12 jets baths.
But before you decide to go for a whirlpool bath, there are several things to consider. For instance, to operate those jets, you need electricity, so there will be higher energy consumption. When there is electric power, safety is a concern, so a proper installation will also need to comply with the relevant regulation besides plumbing.
And cleaning and upkeeping takes a lot more effort than a regular bath. You need to make sure the jets are not blocked with regular checks. Otherwise, the undesirables will breed and grow, making for a filthy environment which ironically is where you clean yourself. So before you decide to install one, please give it a good thought.
Also, how often do you see yourself using the spa feature. That will give you a clear idea of whether a whirlpool bath is a good-to-have or a must-have item in the bathroom. What you don't want is for it to become a white elephant after a while.
Price could range from £850 for a basic 6 jet straight 1700 x 750mm model, including bath panels. If you include the inline heating and underwater lighting, that can cost an extra £350. Other bath styles like a freestanding or inset model can easily set you off from £1700 onwards.
The standard material is acrylic for the price range of £850 up to £2500. Of course, prices vary with the number of jets accordingly. | Types of Bath
Options to Consider With the Choice of Bath
Some bath buying guides may classify these options as bath types, but in reality, they are feature options to consider regardless of the style of bath you have chosen. You can simply treat them as a secondary style after you have decided on the bath type described above. So this is step 2, if you like, in choosing your ideal bath for your bathroom.
Secondary Bath Styles
Roll Top Bath
Double Ended Bath
Single Ended Bath
Roll Top Bath
Roll-top baths are mainly a freestanding or standalone bath design where the top edges are curved for aesthetic purposes. Such bath is usually made of enamelled steel or acrylic sheet, where the sharp edges can present safety issues.
Having the edges rolled or curved eliminates injury hazards and presents an elegant feel at the same time. And it is also easier to grip hold when getting out of the bath.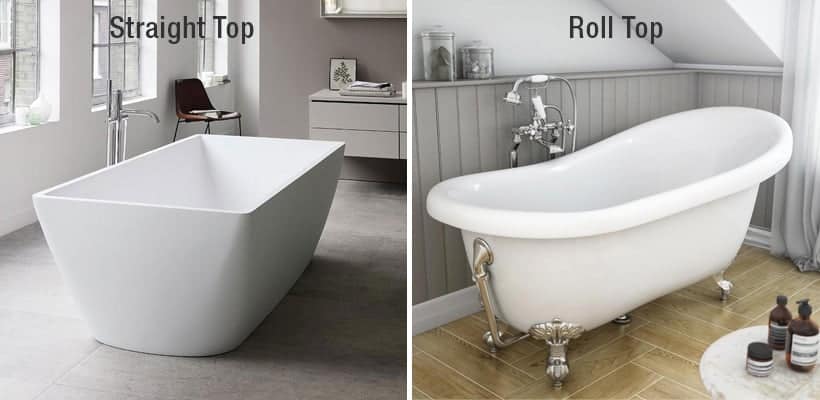 Single-Ended or Double-Ended Bath
A single or double-ended bath is basically about where you prefer the tap and waste to be located regardless of the type of bath you have chosen. Both have their advantages and disadvantages. It is not difficult to decide which one is a better choice for you.
A single-ended bath has the tap, overflow, and waste located on one end. In contrast, double-ended baths will have the taps and the respective waste and overflow positioned at the middle of the edge or even on the wall.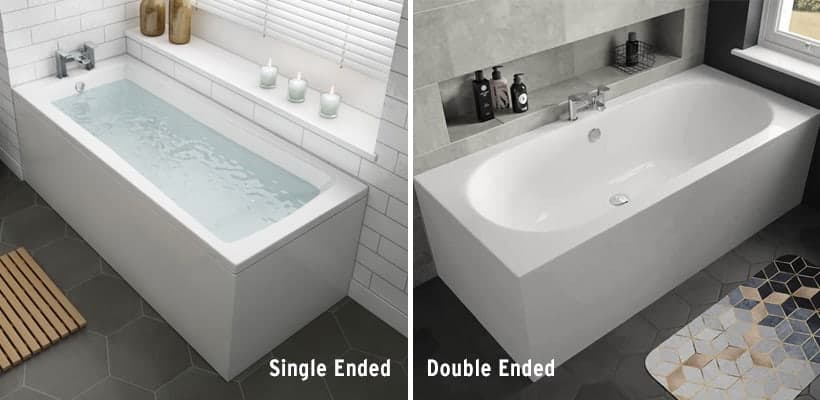 Which would you prefer to have for your bath?
The double-ended bath is the obvious choice if you want flexibility and convenience, including having two-person bathing together. You have two unobstructed sides to rest on comfortably. Also, the tap is within reach if you need to turn on/off the water or adjust the water flow and temperature.
However, the waste outlet may be too close to your bottom since it is situated in the middle. If it is a small size bath, you could be sitting on the waste cap. But in most cases, this little drawback won't affect your enjoyment of a relaxing and rejuvenating soak.
When you need to fill up the tub a little more for heat or volume, sitting up and stretch over to reach the tap is not an option for the single-ended bath. That's that much of an inconvenience with a single-ended bath. Other than that, nobody has any complaints about this option.
Bath Materials Overview
So you have decided on the bath type and style. It's time to consider the other attributes like material type, thickness, tap types and styles, and plumbing requirements. Especially in considering the material type, it can mean a world of difference in durability and your expectation in the bathing experience.
In fact, some may have already decided on the material before considering the type and style. That goes to show the importance of having the right bath material. So what's in the material, and how it shapes your budget and expectation?
Choosing the Right Bath Material is All That Matters
Again, it is a balancing act between what you want and your budget. To some people, this is probably the hardest decision to make in buying a bath. In most, if not all, bath buying guide, information about bath materials are usually the least talk about. That's because it's too wide a topic to cover in one single post.
So, instead of having you read another 40 paragraphs on bath materials alone, let's cover only the most popular and the best material ever used to make a bath. And of course, they are affordable and well accepted by most people.
Acrylic Bath
Acrylic nominates almost all the low-end and mid-range baths as a material. It is the material of choice because of its multiple beneficial properties. The two most favourable characteristics of acrylic are lightweight and its resilience to impact. But most of all, it is the least expensive amongst the other materials. So, if you are on a tight budget, it is not an option.
The lightweight property makes it ideal for those living on the upper floor of flats or apartments where the floor's structural integrity(1) is usually sufficient to support the overall weight. And accidental knocks can hardly leave any marks or chip-offs.
However, not all acrylic baths are made equal. There are different grades of acrylic. And some well-established manufacturers will have their proprietary blend that offers better properties like anti-bacteria and scratch resistance. Some are made stronger and heavier with reinforcement materials for better rigidity and stability.
But in terms of heat retention, acrylic baths are not as good as steel baths. During a long soak, you usually have to top up with more hot water to maintain your desired temperature.
Steel or Enamelled Steel Bath
The second most popular material type use to mass-produce baths that offer affordable off-the-shelves prices. Like acrylic, steel offers flexibility in bath design. Whether to have a contour edge, roll-top, oval shape, or an all-angled appearance, you can have it with steel. You are only limited by your imagination.
However, it is rare to find a steel bath with raw metal finishes off the shelves. Usually, the pressed steel is coated with enamel for a smoother appearance and a close-to-porcelain feel. Other benefits of the enamel-coated steel are, it can prevent bacteria, mould growth and discolouration.
And because steel baths are more durable, some manufacturers offer longer warranties, like 25 to 30 years. It is a better option than acrylic if you want a bath that will last a lifetime. But, unlike acrylic's resilience to impact, enamel tends to chip and easily scratched. And worst, rust may form in the chipped area. So be cautious with hard and heavy objects near the bath; avoid using a solid handheld metal shower head if you can.
You can feel the difference in firmness a steel bath offers versus acrylic. So if you are OK to pay a little extra for a better bit of stability, go for a steel bath. Even though it is heavier than acrylic, it is still suitable for an upper floor installation(1).
Besides, steel baths are better at retaining heat than acrylic, so you can enjoy an uninterrupted long soak without the need to top up more hot water. An experienced installer will place insulation materials like rubber and foam underneath the bath for better heat retention.
If you habitually like to sit in the tub and let the water fill up, the dry bath surfaces are cold to the touch but will quickly warm up by the rising warm water. That's probably the other drawback of a steel bath which hardly had any complaints by users.
(1) Please consult a professional for the floor's structural integrity before moving forward with a bath installation.
The Modern Bath Material
Not satisfied with acrylic and steel and want something better? Then consider the modern solid surface baths, which are fast becoming a favourite among those who want the feel, luxury and properties of natural stone.
The solid surface bath is made of a mix of natural minerals and acrylic resins that offers an exceptionally smooth texture with excellent heat retaining property. It can mimic natural marble, granite and stone with a small percentage mix of colour pigment. They can also be cast in various shapes and sizes.
And unlike steel, solid-surface is warm to the touch. You can think of it as a combination of acrylic, steel, and stone advantages. It is resistant to stains, mould growth and extremely easy to clean and maintain.
When used properly with the recommended maintenance, the non-fading colour feels like new even after years of usage. Though not entirely scratch resistance, surface damage can be repaired easily and polished back to its glory.
The downsides are, they are significantly more expensive and heavier than steel and acrylic. But just like stone and steel baths, they are going to last a lifetime. And like acrylic, some well-known manufacturers have their patented blend of the material with varying mineral and resin percentages for better heat retention and durability.
Natural Stone, Cast Iron & Copper
How about going for the evergreen retro style, not just in form but also in substance? These bath materials are the best in fulfilling your requirements for a luxurious experience. And almost all of them are freestanding baths, which are only logical given their raw beauty that elicits the desirable elegance.
The main advantage of these traditional materials is, they are extremely durable. Even the most fragile of them all, stone, will not crack or chip easily unless with deliberate impactful force. Another clear benefit is, of course, the excellent heat retaining property. Or you can think of it as a great water-saving feature since you won't need to top up hot water to maintain your preferred temperature.
They may be the most expensive baths money can buy, but it's not that costly after all since they will last a lifetime. And despite the high cost, there is no lack of demand for these time-tested evergreens. You have a wide range to choose from off the shelves, and they are priced about the same level as the solid surface baths. But the bespoke ones are mostly for those with deeper pockets.
And of course, there are always the good old wooden baths. But let's save it for another discussion, another day before it really gets to the next 40 paragraphs about bath materials.
Bath Type vs Bath Material vs How You Will Use the Bath
One very important aspect of buying your desired bath is to be clear about your bathing habits. Then you are not likely to overlook the finer details and end up frustrated with your decision. So it makes a lot of sense to think through your needs and prioritise them accordingly before your search. Then you will be so much clearer in selecting the type of bath and the respective material. And that's assuming you have a realistic budget to begin with.
For example, if you like to use a bath tray, then the single-ended bath will free up more space along the edge for positioning the tray. In that case, choosing a bath with good heat retaining property like steel or solid surface is a good start. Or you love having a glass of wine on the bath edge, depending on the size of bath (lengthwise), a single-ended bath with excellent heat retention is a better option.
And, if you and your partner love a good soak together sometime, it makes sense to use a double-ended bath. Material wise, it's up to your budget.
Bath Tap Selection
Your bath purchase is complete only when fully installed and tested to work perfectly to your satisfaction. And that should include the little details like bath grip, anti-slip, type of bath taps, panels, and pre-drilled tap holes etc. Except for bath tap, which is not an option, the rest is entirely up to your preferences.
And speaking of bath tap, it may involve your decision on how your plumbing is done. And it all begins with how you want the tap mounted. Is it going to be on the wall, deck mounted, or freestanding (floor mounted)? And what do you prefer, single or double tap?
Different vendors may package their offers differently. Some provide taps with pre-drilled holes or with only pre-drilled holes. In contrast, some sold their baths completely without the tap holes and tap. So take note of this, especially if you intend to buy online. But if you prefer the tap to be wall-mounted or freestanding, there is no need for tap holes, and the taps are usually sold separately.
So, there is quite a bit of decision to make on the bath taps as well. But for acrylic or even steel baths, don't worry about the tap holes; you can always do the cut-out with the right tools or leave it to the plumber. And if you make a mistake with a redundant hole, use a blanking plate or tap hole cover, which is easy to obtain from any bathroom vendors.
Summary
Installing a bath in an existing bathroom can be complicated. It all depends on how much space you've got and the floor strength. So, when everything is still on the drawing board for a new build, you should grab the opportunity to plan out the bathroom around your dream bath. Then you will have the widest choice of bath styles at your disposal.
Fortunately, with today's manufacturing capability and the advancement in material technology, there is no lack of bath types and styles to suit any bathroom settings. Even if you live in a flat or apartment, you are only constrained by your budget.
Knowing the technical limitation (such as minimum clearance space and bathroom layout) and having a realistic budget is all you need to get started in your search. The other aspect is your personal preference or a specific requirement to suit a family member. For example, grip bars, anti-slip, and headrest will be better and safer for the senior member of the family.
And don't forget, your bath time matters too. If you love to take long soaks, get one with excellent heat retention. At least an enamelled steel bath. Or, if you are flexible with your money, a solid surface bath will be excellent. So you don't need to keep up with the water temperature by topping up with more hot water. You save precious water and money.
Other considerations on your choice of baths might depend on your bathroom decor and layout. Larger bathrooms will have the advantage of space for a separate bath and shower. Otherwise, there is the P- or L-shape bath or even the corner bathtub to save the day. When you have plenty of space, cash, and a strong floor, you don't need this bath buying guide.