What You Need to Know About Comfort Height Toilets?
There are three main reasons why you need a comfort height toilet. But hopefully, you are looking for one because of a genuine issue you want to address and not because of the adjective "comfort". Not everyone prefers a comfort height or chair height toilet. So before you buy into the hype, get the facts right and decide if it's suitable for you.
But first, let's define a comfort height toilet and how different it is from a standard height loo.
A comfort height toilet has a higher pan height than the standard loo. Its seat height, measured from the floor to the top of the toilet seat, begins at 17 inches (432 mm) and up to 19 inches (483 mm).
Notice that the measurement in inches preceded the metric system? That's because it begins in the United States, which predominantly is still using the imperial system. And the 17-19 inches seat height is stipulated in the Americans with Disabilities Act (ADA) which toilet manufacturers leverage in their marketing effort.
However, not all comfort height toilets are ADA-compliant toilets as the act covers more than just the seat height.
UK vs America – Differences and Similarities in Comfort Height Toilet
But not all toilets that are 17-19 inches in seat height are called comfort height in the US. American Standard uses 'Right Height' for its toilets with a seat of 17 inches or higher. And Toto calls it a 'Universal Height'. So it is nothing more than just brand differentiation in the industry.
The term 'comfort height' is coined and trademarked by the Kohler Company.
So, are those high-pan loos in the UK any different from the American comfort height toilets?
As usual, the main differences are in the flushing system and soil pipe connection. The only similarity is perhaps the height range which is expressed in millimetres here instead of in inches. And the pan heights offered in the UK is more comprehensive than in the United States.
What's intriguing about the ADA height range is that 18 and 19 inches seat height toilets are not so common in the US, and they are all close-coupled types. Fortunately, that's not the case here. You will be able to get any height range in almost any toilet types you prefer.
In the UK, out of convenience, 'comfort height toilet' has become the unofficial term for such tall bowl WCs regardless of brands. Other names you might have seen are Raised Height, Comfort Raised Height, Raised Pan, or simply Comfort Toilet and more.
Whatever they are called, the 17-19 inches range remains the same, more or less. And, of course, the ADA doesn't apply here. In the UK, we have a different approach and set of regulations concerning safety and usability for people with disabilities.
What is the difference between standard height and comfort height toilets?
When you come across a Comfort Height toilet, bear in mind that it is still a normal flushing toilet only with the seat set at 432 mm or above. You can deem anything below that as a standard height toilet, which is typically at around 405 mm.
So, regardless of toilet type, be it a wall-hung, back-to-wall, or corner toilets, they can be comfort height toilets as long as the seat height is 432 mm or above.
Do You Really Need a Comfort Height Water Closet?
You don't need a reason to own one, but it's almost not an option for some people, such as;
People with mobility issues (e.g. leg injury, arthritis, or permanent disability).
An older adult who may find the standard height toilet is becoming a challenge and unsafe to use.
Taller people need a taller toilet pan, plain and simple, even more so for tall older adults.
A common misconception about comfort height toilets is that it is meant for older people. That's way further than the truth. If your physical height is 1.8 m and above, a taller-than-standard pan will be more comfortable to use, regardless of age.
Also, there will be times when you are not feeling well, which may lead to muscle weakness, then you can appreciate how a tall pan toilet helps in alleviating the pain of sitting down and getting up.
However, if you are happy with a standard height toilet and perhaps find the raised pan a little too high for your comfort, don't change. Unless you have no choice, the way around it is to use a step stool.
A comfortable seating position is yours to make, be it a raised height or not.
Another reason to choose a comfort height toilet is that you are sick and tired of keeping the raised toilet seat clean daily (probably with each use). If you are using one of those toilet seat raisers, you know the pain. Besides the mess, it can be unsafe for an unsupervised frail older adult to use.
Are Comfort Height Toilets Bad for You?
As mentioned earlier, not everyone likes a comfort height toilet. Especially those who lack the vertical dimension that even the standard toilet is barely offering the comfort and ease to use. But some people are distancing themselves from even the regular height water closet for a health reason.
You probably have heard about the healthiest way to defecate; that is by adopting the natural squatting position. The science behind the idea is to have the anorectal angle widened as much as possible to allow smoother bowel movements. And the best way to make that happened is the squat position.

Especially when you are in constipation, you can discharge a lot easier when you squat versus when you sit. The sitting position requires more expulsive effort to empty your bowel, and most of the time, it's not a clean elimination. And the host of digestive ailments and disorders, such as haemorrhoids, are related to the sitting position.
But are you OK with a squatting toilet?
Unless you live alone or have the toilet all to yourself, that's not a choice for most people. The best option, or rather, a good combination closest to the natural squatting position, is a regular height pan and a squatty potty. Or adopt The Thinker position whenever you are at it. Though not as perfect as the squat position, it helps excretion better than sitting upright to poop. And it won't stress or strain the joints, which is a great advantage for older people and those with knee problems.
It all boils down to your priority – a healthy digestive system or no stress to the joints. You can achieve both with a standard or comfort height toilet and a step stool to help mimic a squatting posture.
Pan Height and Seat Height Explained
Before you rush to pick your desired raised height toilet and get all confused, remember that they (Americans) always refer to the floor to seat height. Whereas in most cases here in the UK, you have to look at the pan height and do your math.
The image below illustrates the correct seat height measurement from the floor to the top of the seat and not the toilet lid or cover.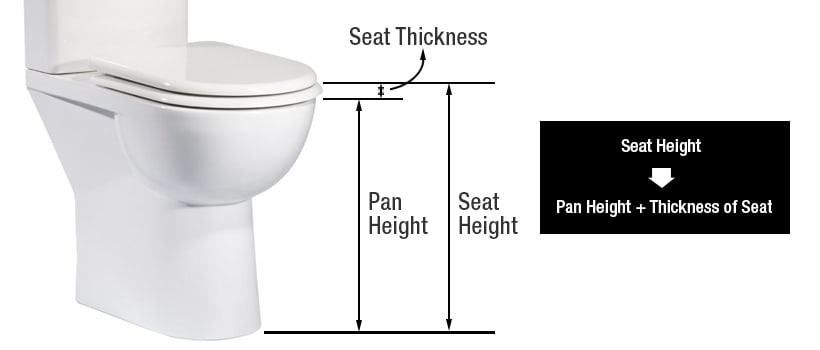 Typically, in all specification sheet, only the pan height is shown. That's because buyers might prefer a different seat or buy separately from a third party vendor. So it makes sense to provide the pan height dimension and leave the final seat height to the buyer with their chosen seat.
Seat thickness is around 25 mm to 30 mm. So to get the minimum 17 inches or 432 mm in seat height, the pan height should be at least 407 mm or 16 inches tall. However, a modern ultra-slim seat may be less than 25 mm thick. So if you prefer to have a slim seat on your toilet, you will need a higher pan height to meet the minimum or whatever comfort height you desire.
What Are the Common Pan Heights?
You can pretty much get the pan height you want from 432 mm up to 485 mm, with 450 mm being the most common. As mentioned earlier, the height range in the UK is more encompassing than in the United States. You've got more brands and models offering the whole height range in various designs.
Almost 90% of comfort height toilets have a pan height of around 16.5 inches or 419 mm in the United States of A.
Here in the UK, we have a wide range that even goes beyond the 19-inch limit. Take this Affine Comfort Raised Height model, for example; its pan height is already 485 mm (19.1 inches). Or if 480 mm is good enough for you, you will be spoilt for choice.
And don't be surprised to find a pan height of 500 mm and above, but it will be interesting to see one in the UK. In the US, the tallest bowl height is 20 inches (508 mm).
How to Choose the Right Height Toilet?
The deliberate wider height range of comfort height toilets makes it a more personal choice than a traditional height toilet. The main consideration is, of course, the physical height of the user. But bear in mind that the individual's health condition also needs to be considered when choosing a raised height toilet.
Generally, based on a person's height, you can find the right floor to seat dimension. Unless it's a bespoke design, the difference is no more than 2 inches from the floor based on what's available in the market currently.
Here's a rough guide on the comfort height option to a person's physical height.
Physical Height vs Toilet Bowl Height
Physical Height
Bowl Height
1.8 m & higher
461 mm to 480 mm (or higher)
1.75 m to 1.79 m
450 mm to 460 mm
1.70 m to 1.74 m
405 mm to 449 mm
Below 1.70 m
405 mm or lower
(standard or traditional height toilet)
A more accurate way is to take your knee height and minus away 50 mm to 65 mm to be your ideal pan height. Your knee height is measured from the floor to just below the knee cap. – see the image below.
The right pan height will allow your feet to rest flat on the floor, and the knees are slightly less than 90 degrees when seated. You should be able to lift yourself easily with a little push. And when sitting down, you will have the control and not drop uncontrollably onto the toilet seat. Otherwise, it only means the pan height is too low for your comfort and safety.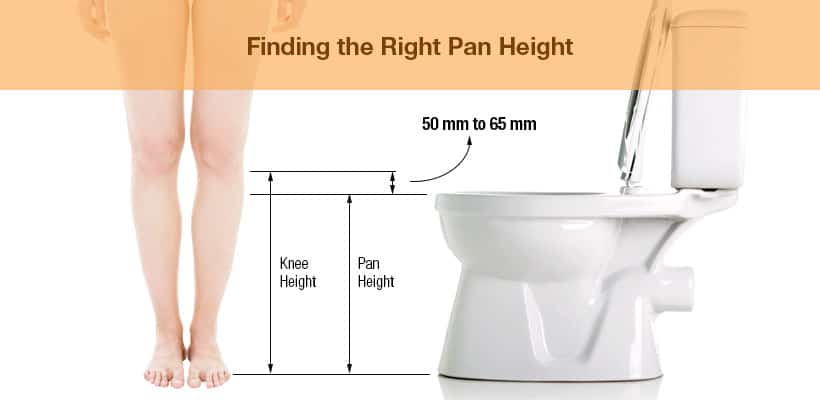 Summary
The concept of raised height toilet is initiated by the Americans with Disabilities Act (ADA) which prohibits discrimination on the basis of disability in all aspects of Americans' daily lives. And it caught on with other parts of the world simply because it makes perfect sense not only for people with disabilities and seniors, tall individuals are also favouring the user-friendliness in these high pan toilets.
Therefore, it is not specifically meant for certain groups of people, but more of a choice when the need arises and offers a more personalised option for healthy ordinary individuals.
If you have size options for shoes, pants and shirts, why not toilets? Even a squat toilet is comfortable to someone who has been squatting to poop all his/her life.
So, comfort height or not is determined by your satisfaction and not what it is called. The name has a lot to do with the people in the marketing department of a certain company. For sure, right height or raised height sounds more appropriate and logical without the hype.
The key is to find out the best pan height for yourself or your family. By following the guide above, you can know the ideal bowl height to go for within a matter of seconds. And it doesn't necessarily have to be a raised height or comfort height toilet.
9 Best Comfort Height Toilets to Buy in the UK
Ready to explore and get yourself a toilet with the ideal pan height? Here are 9 recommendations with pan heights from 430 mm to 500 mm. Happy shopping!