What are the Best Comfort Height Toilets to buy in the UK?
Aren't you frustrated when you are googling the best comfort height toilets to buy and only to find out the reviews are mostly about American toilets? Well, don't quit yet. The reason is that you have probably used the term 'comfort height' in your search.
Comfort height toilet is mainly an American term referring to a toilet with a 432 mm (17-inch) seat height or higher. The term is trademarked and well marketed by the Kohler Company, leading people to associate a higher pan toilet with a (Kohler) Comfort Height toilet.
Try 'Raised Height Toilets' or 'Comfort Raised Height Toilets' or 'Raised Pan Toilets' in your search instead. You will get more related reviews like this one, where only UK toilets are reviewed to help with your purchase decision. That should also save you precious time from searching and reading all the wrong toilet reviews.
And remember, the adage "one man's meat is another man's poison" rings particularly true for raised height toilets. It has all to do with your physical height versus the pan elevation and totally irrelevant with the number of stars in review a toilet gets. Size, or rather, height, does matter with the comfort level you are seeking here.
So let's bring on the nine best comfort height toilets you can safely buy and install in your British bathroom, in no particular order of pan height.
Is this your first attempt at buying a toilet? You might want to start here before going through the recommendation and get all confused as to which comfort toilet to pick.
Or jump straight to the comparison table to get a bird's eye view of all the nine best comfort height toilets.
Affine Amelie Close-Coupled Square Short Projection Toilet
You are looking at the taller sibling of the once #1 Best Seller in bathroom suites on Amazon. The pan height of this stylish square potty is an impressive 485 mm. Probably one of the tallest among the tall toilets you can find out there. You can sure get on it without straining your joints a bit and be as comfortable getting up from it.
Apart from the tall bowl, this Affine Amelie is compact in size. The toilet measures just 615 mm in length (front to back). It is suitable to install in locations with limited frontal space. For example, when facing an inward opening door or with very little clearance space at the front.
If you are 1.8 metres or taller, this is made for you. | Comparison Table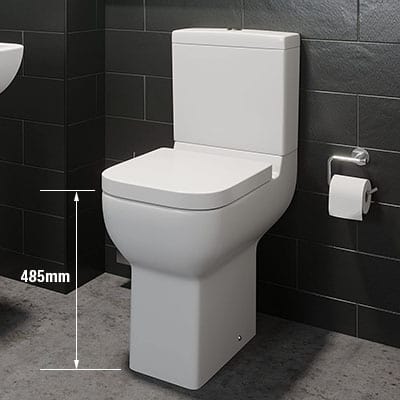 Affine Amelie 485 mm Raised Height Toilet
Square Ceramic Back to Wall Comfort Height Toilet
If the above Affine Amelie's 485 mm pan height is still a little short for your towering figure, how about this 500 mm tall pan WC? However, it is only a pan for a back-to-wall installation. You will have to purchase the concealed cistern separately.
But that's no issue at all. There are plenty of concealed cistern options to consider. Geberit and Grohe have a good range of concealed cisterns to suit almost any installation requirement if you want nothing but only the best.
Even though the length of this square pan is only 550 mm, it may not necessarily be the shortest projection. It depends on the wall it is backed against. Especially if it is installed on a WC unit, you have to consider the depth of the WC unit.
Besides loving the extra height for your above-1.8m physique, you will also love how well it blends with the bathroom decor. The toilet will look as if it is part of the wall or the WC unit. Discuss with your plumber about the installation if you like what you see before hitting the buy button. | Comparison Table
REMINDER: This is only the pan or bowl only. Concealed Cistern is not included.
Square Ceramic Back to Wall Comfort Height Toilet (Pan Only)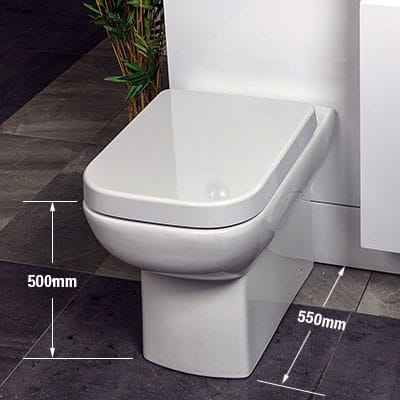 Home Standard Options 600 Close-Coupled Comfort Height Toilet
Let's bring down the pan height a little from here on. Starting with this 480 mm high pan (and still squarish) Home Standard Options 600 comfort toilet. Standing at 875 mm overall and 600 mm across, this stylishly angled WC will elicit the spaciousness out of any tight space it resides.
At 480 mm floor to rim height, it can still provide the desired convenience and comfort for those who are 1.80 metres tall. And with that physique, the lack of space at the front can be an annoying experience in a narrow space. That's where the 600 mm length can save a little space and help achieve the regulated minimum clearance. | Comparison Table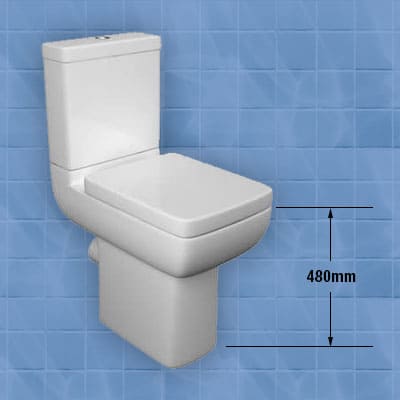 Options 600 Comfort Height Square Close-Coupled Toilet
Ideal Standard Concept Freedom Close Coupled Comfort Height Toilet
Alright, enough of square bowls, and let's move on to a curvy beauty for a change. This Ideal Standard Concept Freedom comfort height WC has a tall round bowl set at 480 mm floor to seat. The pan height is estimated to be 450 mm, assuming the seat is 30 mm high.
Available in one colour, the contrasting white gleams like a spotlight on this tall and elegant potty on centre stage if your bathroom has a dark theme. It will make a perfect conversation piece when it's hard to ignore the alluring appearance.
Though round pan toilets are typically designed to be compact for small bathrooms, this tall beauty is 655 mm from front to back. That's 55 mm longer than the squarish Options 600 above. But still, a great addition to any small bathroom when space is not excruciatingly limited.
You can choose between two dual flushing capacities of 4/2 litres and 6/4 litres. So, if reducing water consumption is one of your priorities, you know which to choose. And with a 25 years guarantee, speaks volume of the maker's confidence in its quality and performance. | Comparison Table
Ideal Standard Concept Freedom Comfort Height Toilet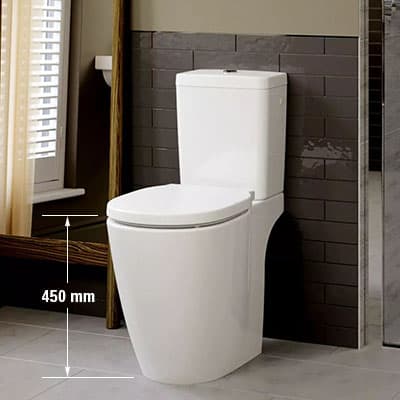 Closed-Coupled Raised Height Round Pan Toilet by Sorrento Bathrooms
Another round bowl comfort toilet for your consideration. But unlike the Ideal model above, this Sorrento toilet is a closed-back or flush-to-wall design. When you have splurged a considerable amount on the bathroom decor, exposed pipes are aesthetic killers. Or you may prefer to have lesser open areas to keep clean, then closed-back toilets are great options.
The rim is 460 mm above ground, and the pan front is 670 mm away from the wall. If you have the space to accommodate the longer pan, you may want to consider this tall toilet by Sorrento Bathrooms over the Ideal Standard Concept Freedom model. A broader and longer pan is always more comfortable to sit on.
If you are anywhere between 1.75m and 1.79m tall, this Sorrento and the Ideal Standard Concept Freedom above is a great size toilet to consider. And besides the pretty appearance, the dual flush capacity of 4.5/3 litres will adorn the water bill. | Comparison Table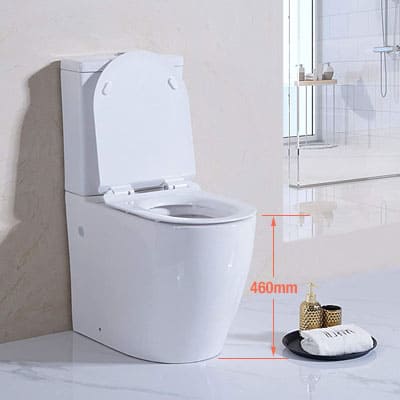 Raised Height Round Pan Toilet by Sorrento Bathrooms
Milano Select White Modern High Rise Doc M Disabled WC Toilet
Love the conventional oval shape pan or elongated bowl? Then this Milano Select raised pan toilet couldn't be any closer to your expectation. The 470 mm tall pan makes a seat height of about 500 mm if you prefer a conventional or wrap-over toilet seat.
If you love the shape or exterior design and don't mind putting up with a little extra effort in cleaning, then all is good. Otherwise, the recessed area, especially under the cistern, is the perfect shelter for black moulds and bacteria to flourish. And it is annoying to keep that area clean without risking broken nails. So ladies, if you have to do the cleaning, please use a sponge stick for the hard-to-reach area.
Although the description seems to imply the toilet is designed for the disabled, it is a normal toilet for all ages. It's just marketing, and frankly, there's a little insensitivity in the message. Other than that, if you aren't bothered by it, feel free to have a closer look. This Milano close-coupled tall toilet carries a 20 years guarantee.
And for those who are a little short of 1.8 metres in physical height (1.77 m to 1.79 m), the 470 mm pan height is easier on you than on those tall toilets above. The overall length of 650 mm will fit in any bathroom size. | Comparison Table
Milano Select White Modern High Rise Doc M Disabled WC Toilet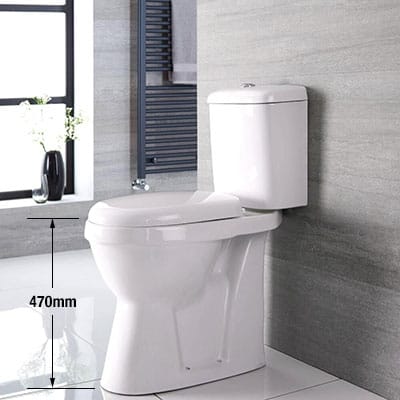 Appleby Close Coupled Comfort Height Toilet
Back to another square toilet, but this time the pan height is the common 450 mm. That's about the right height for those standing at 1.75 m to 1.77 m tall. You are probably right to say it is only 20 mm or so, which anyone can hardly feel the difference.
When you are still physically fit and agile, even a regular toilet posed no issue. But for a senior or someone with mobility issues, every millimetre counts.
The pan surface has a four-layer thick glaze and an anti-bacteria coat finish. This exceptional finishing enhances the flushing efficiency with excellent bowl cleansing capability. That means the chances of a dirty smear on the bowl surface are greatly reduced, and you save on flushing a second or third time to get a clean bowl. And the anti-bacteria coat offers an odour-free pan to keep the bathroom at tip-top hygiene level at all times.
With a projection of only 620 mm, this Appleby raised pan toilet is great for most average to small size bathrooms. Above all, it carries a 25 years guarantee. | Comparison Table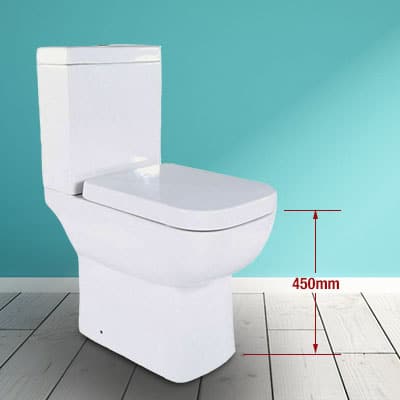 Appleby Close Coupled Comfort Height Toilet & Soft Close Seat White Square
Ceramica Arles Close Coupled Short Projection Comfort Raised Height Toilet
You may have great admiration for the Ideal Concept Freedom model above for its exterior design but lament over the pan height to be a little tall for your liking. No problem. How about this curvy slender Ceramica Arles close-coupled WC?
The pan height is a comfortable 430 mm with a projection of only 605 mm, and the base flares out like a fishtail that resembles a mermaid-style gown. And hearsay has it that an ultra-slim soft-closing seat looks even sexier on this shapely beauty, but that's up to your preference.
A slim seat is about 15 mm high (excluding the cover). So that makes the overall seat height to be 430 + 15 mm, versus 430 + 30 mm if you are using the standard seat that comes with the toilet.
The main advantage of Ceramica toilets is their gorgeous gloss surface finish, which is also stain and scratch resistant. And cleaning this classy porcelain piece is no chores at all. That only means the build-up of nasty grime and limescale deposits can be reduced with a more relax upkeeping regime.
This Ceramica Arles is also known as Affine Arles on Amazon. | Comparison Table
Ceramica Arles Raised Height Close-Coupled Toilet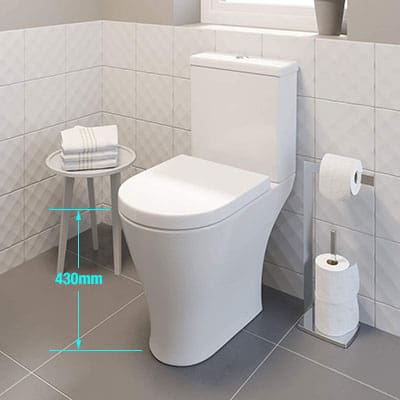 Ceramica Arles Modern Bathroom Raised Pan Height Corner Toilet
Are you looking for a high pan corner toilet? If you like the elegant Ceramica Arles above, you are in for a treat because the Arles has a corner version. Other than the triangular cistern shape, the rest of the dimensions are almost identical to the regular Arles. And, of course, it has inherited the grace and beauty of the original Arles.
The pan height is 430 mm, and the overall projection is 785 mm, which is not unusual for a corner toilet. The longer body is due to the angular protrusion at the rear of the cistern. The bowl dimension is similar or pretty close to the standard Ceramica Arles high pan WC.
Again, you can go with the standard seat supplied with the toilet or get yourself a slim seat separately if you like that combo better. Just bear in mind the 15 mm difference in seat height if that's no issue for you. The similarity also includes the surface glaze, which is both stain and scratch resistant. You will love the cleanliness and ease of upkeeping that this beautiful Ceramica Arles offers. | Comparison Table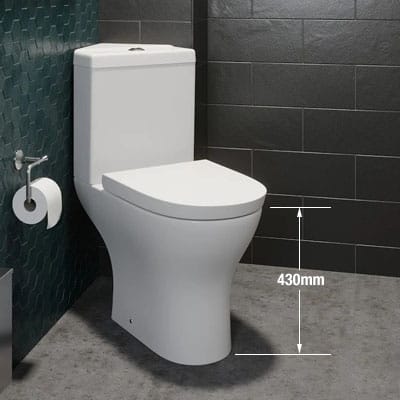 Ceramica Arles Raised Pan Close-Coupled Corner Toilet
9 Best Comfort Height Toilets Comparison Table
Brand/Model

Pan Height

Seat Height
Projection
Bowl
Price

Affine Amelie
485mm
Pan Height
510mm
615mm
Square
Amazon

Square Ceramic
500mm
530mm
550mm
Square
Amazon

Options 600
480mm
505mm
600mm
Square
Amazon

Ideal
450mm
480mm
655mm
Round
UKBathrooms

Sorrento
460mm
485mm
660mm
Round
Amazon

Milano DOC M
470mm
500mm
650mm
Oval
Amazon

Appleby
450mm
480mm
620mm
Square
Amazon

Affine Arles
430mm
460mm
605mm
D-Shape
Plumbworld

Affine Arles Corner
430mm
460mm
785mm
D-Shape
Plumbworld
What Are The Features to Look Out for in a Comfort Height Toilet?
Despite all the best reviews you have come across, picking the right height toilet for yourself can still be as daunting as not knowing where to look. Primarily, the reason is probably the lack of understanding in the features department. But once you list down your priorities, it can be as clear as day and night.
First off, what set you off to look for a comfort height toilet? And how much do you know about these raised height toilets? For the latter, you can read about it in this article, Comfort Height Toilets in the United Kingdom.
If you are clear about your intention, then the next must-do thing to look out for is the pan height. What seat height is the most suitable for you? Or you may be buying for a loved one, then all the more you should get a grasp of their needs and set down the preferences you want for a toilet.
Determining the pan height is explained in this section, "How to Choose the Right Height Toilet?". It shows you how to measure your knee height and factor in some allowance to find the closest pan height. Once that is clear, choose a seat to go with the toilet that offers the desired seat height. Typically, the seat (excluding the cover or lid) is about 25 to 30 mm high.
Other features like low flush volume (water-saving), short projection (space-saving), rimless pan (easy to clean), and exterior design are strictly your preferences. And some of these other features are as important as the pan height. For example, the toilet's projection is important when you have limited space at the front. Or upkeeping the hygiene level without spending too much time (easy to clean) can be a deciding factor for some people.
So, listing down what you want or need should be your first step and the best way to start your search for the best comfort height toilet. Of course, at the top of your list should be the ideal pan height you have determined for yourself.
And lastly, you should also consider the installation. This step is important, especially if you are replacing your existing toilet with a raised height model. The pipe connection must match or have no problem making a little adjustment or modification. Ask for expert advice if you are not sure what it entails. For the more technically inclined, this is a standard drill.