Water Closets For Modern Cloakroom Suite
You can call a toilet a 'living room toilet' if you have one in the living room. Of course, it's absurd to even think of installing one there. But a bathroom or cloakroom toilet makes perfect sense, and there's no argument about the norms and standards.
The point here is, there is nothing peculiar or different about the water closet regardless of where it is installed. It is the same toilet but only named after the location it sits.
So let's not go into defining what a cloakroom is. You will be happier to know how to choose the right toilet style and size that fits perfectly into YOUR cloakroom (or whatever you want to call it).
However, there is a limit on a toilet's size. You only take to the extreme (smallest) when you have very limited space in the room. Therefore, a good grasp of the minimum space rule will greatly help design the layout and determine the size of the plumbing fixtures, including the toilet, for your cloakroom.
The importance of Clearance Space For the WC
General Perceptions About Cloakroom Water Closets
Cloakrooms are generally smaller than the main bathroom. The assumption is because they are usually located in a less 'public' area in the house. They also tend to be used by guests more often than family members or as a spare or backup.
And because of the smaller room size, functional space is a rare commodity, so it only makes sense to have all fixtures in it to be of space-saving design. Hence, cloakroom toilets are almost synonymous with shorter projection or compact toilets.
But this is not to say you cannot install a larger toilet in your cloakroom. In fact, for most people who live in houses with large bathrooms, having a regular toilet in the cloakroom is nothing unusual.
In other words, unless you need a big toilet, don't bother buying one of these small WCs. If you're planning to use it every day, then get yourself a decent-sized one instead. What really matters is the floor space must be adequate to accommodate the toilet, a basin and clearance spaces.
What Are The Short Projection Toilets Dimensions?
Short projection toilets are designed to fit into tight areas such as narrow hallways, stairwells, and closets for a cloakroom. As their name suggests, these toilets project minimally beyond the walls to avoid blocking off too much space. So the overall length (or depth) that measures from back to front is of primary concern, which determines if the toilet is suitable for a small cloakroom.
The length limitation for pedestal-type toilets is the cistern that took up about one-third of the overall length. Typically, the length of such toilet type is about 600mm to 635mm, which is considered a short projection loo.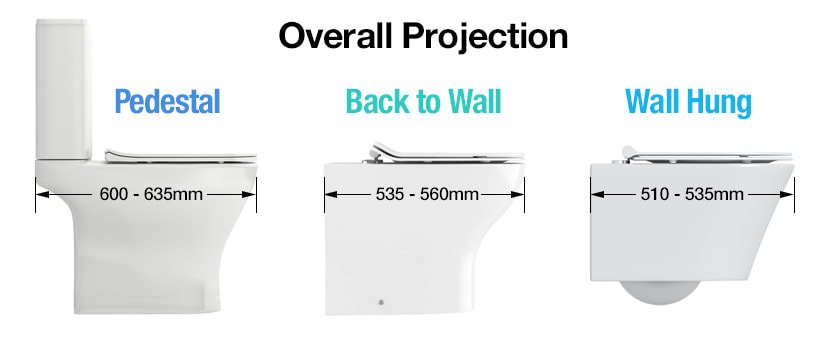 But the shortest projection has to be the wall-hung closets with about 510mm to 535mm in total length. Likewise, the floor-mounted back-to-wall concealed cistern type is another viable option if a wall-hung loo is not prefered.
And the width is not an issue in most cases because it is rather standard for all toilet types. Generally, the pan width is about 355mm to around 450mm for most space saving toilets and standard size loos.
What Are The Toilet Options For Cloakrooms?
There are two basic types of toilet: pedestal and wall-mounted. Both come in various styles and sizes. However, the choice between them depends largely on how much space you have available. Either type can be an excellent space saving option with the right layout and flawless planning.
If you have enough space, then you may want to opt for a pedestal type WC. These water closet types are easier to maintain and compatible with most 3rd party parts. But the seat height is fixed, and that's another thing to consider besides the toilet length.
You can choose the standard toilet of which the seat height is between 355mm and 395mm or the comfort height toilet that starts from 432mm to as high as 508mm or even higher. But be mindful of the length if you have limited clearance space at the front because a taller pan may mean a longer projection.
On the other hand, if you barely have the minimum clearance space, you may consider going for a wall-mounted or back-to-wall model. You can't get any shorter with a wall-mounted toilet, and you can set the seat height anywhere between 381mm to 485mm with some concealed cistern frames. And you will love how easy it is to clean without the tank and no obstruction on the floor.
Of course, it will depend on your budget. It is more costly to install a wall toilet as the cost is largely in the installation.
The back-to-wall type may have a shallower depth than the common close-coupled toilets. But that will depend on whether the cistern is wall-concealed or the back to wall toilet unit (or Basin Combination Unit). The latter will not save you space because of the washbasin, which adds significantly to the total projection.
Then if you have a narrow space with more width than depth for a cloakroom, consider installing a corner toilet.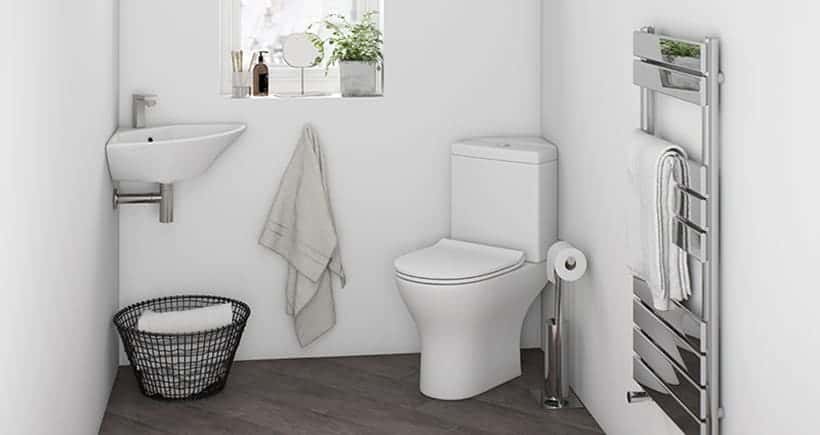 Other Issues With A Toilet In A Small Space
Besides the obvious space constraint in a typical cloakroom, there are other issues to take care of, or it can quickly escalate into a very unhealthy environment. The flushing and the evaporation of water in the pan will add moisture to the air.
If there is poor or no ventilation in that space, you will soon see patches of mildew on the walls and floor. And those hidden or hard to reach areas are hotbeds for bacteria to 'flourish'. The whole cloakroom is not going to smell nice either.
It is important to have healthy airflow in a limited bathroom space, regardless of whether a toilet is there or not. A minute would seem like forever for anyone doing business in a poorly ventilated space with the lingering odour.
When there isn't a window in that space, a door louvre and ventilation fan to stimulate air exchange are not options to consider. And to keep the air in the cloakroom dry, having a dehumidifier in it is encouraged.
Last but not least, it is important to maintain a high degree of hygiene in the cloakroom. The best way forward is to have a sterile toilet at all times. Using toilet cleaners is one way, but that requires considerable manual work. Otherwise, you may want to consider incorporating automation such as this self-sterilising system onto your existing toilet.
Conclusion
Never mind where you intend to install your throne. The main thing is to make sure you have the minimum space requirement fulfilled. And that is, besides having the area for all the fixtures and plumbing, there must be ample space for movement safety and maintenance access between them.
So choosing the type of toilet is a matter of personal preference. But of course, a cloakroom toilet is used by other family members as well, so their needs too, have to be considered.
And one important aspect of cloakrooms or small bathrooms is ventilation. A small space is prone to mould and mildew growth when moisture is trapped due to stale air. If there isn't a window in that space, use a door with a louvre and ventilation fan to stimulate air exchange.
Also, ease of maintenance is another consideration in a small enclosed area. Keeping it obstruction-free as much as possible will make cleaning less of a chore. A wall toilet will be ideal as it has no hidden surface to worry about.
Finally, the modern toilet is made more efficient and designed to minimise maintenance. And most of all it has downsized significantly to suit small cloakrooms or bathrooms which are in large percentage these days. But the one thing that hasn't changed is the pan size.
There isn't much room to adjust the pan shape and dimension because most of our derrières are rather standard symmetrically. Of course, there are the jumbo bottoms, but porcelain is not structurally practical for broader pans.
And using steel as a material for toilets is not so well received for homes since they have it in prisons. Plus, you definitely wouldn't want to sit on a steel toilet during those biting cold weather. Even with a plastic toilet seat, the radiating chill in the pan is not helping with your relief.